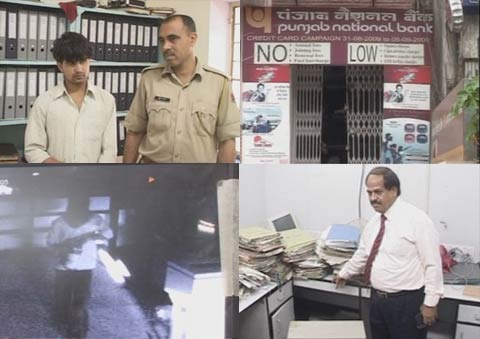 An engineer by profession, Deepak Chowdhry  had a love marriage and splurged money on his wife. After rising debts, he planned to carry out a bank robbery,
Deepak planned to steal money from the strong room of Punjab National Bank branch in Vaishali Nagar, Jaipur, and he chose the Diwali holidays as the right time to execute his plan.
Deepak came fully prepared on November 4 along with food(apples, bananas, sandwiches and gutkha)  to last for 5 days and clothes and  during banking hours, went to the basement and hid behind the CPU of the computer system  along with the row of files.
He had also brought with him a spy pen camera and cellphone which could record for 48 hours continuously.
He set up the spycam  in front of the strongroom in order to crack the code used to open it.
The most astonishing part of it was that the bank's branch opened for two days after Diwali but nobody knew that a man was hiding behind the rows of files. When the branch was closed for two days, he even used the bank staff's ketley to brew and drink tea.
His plan was to get to know the code for opening the strong room. He waited for four days but couldn't get the code.
On the fifth day, he was  caught when an employee came early near the strongroom and caught him hiding behind a table. At that time, Deepk was busy drinking tea from the ketley and the smell of  brewing tea reached the stunned employee.
Additional DSP Jaipur South Shankar Dutt Sharma said Deepak had done a thorough recce of the bank premises and his pictures were available on CCTV.
In June this year, Deepak had tried to enter the bank's branch by removing a portion of the grill, but escaped before he could be caught.
Incidentally, Deepak also has an account in the bank's branch. His bank balance : Rs 9.