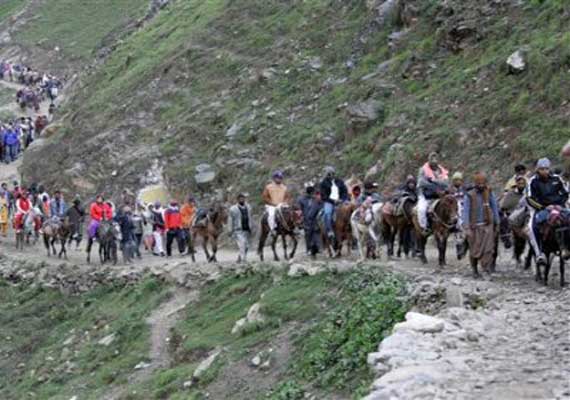 Srinagar, Aug 20 : Denying any plans to construct a road to the Amarnath shrine, the Jammu and Kashmir government today said the high-powered committee, set up by the Supreme Court, had not yet given its recommendation on the matter.
"The state government has no plans to make a road to the Amarnath cave shrine. The pilgrims will continue to use ponies and palanquins for the journey," Finance minister Abdul Rahim Rather told reporters here.
He rubbished media reports which said the apex court had directed the state government to construct a road to the shrine before snowfall this winter.
"The Supreme Court has passed no such direction and the state government has issued no order for construction of the road," the minister said.
On August 13, the Supreme Court had asked the government to finish construction of roads and widening of passage to the Amarnath shrine before snowfall.
Rather said some leaders and civil society groups had started issuing statements about the issue, leading to an impression that the government was going to construct a road in the area.
"I want to assure the people that there are no such plans. They should not pay heed to rumours. We have witnessed two peaceful years and people are reaping its dividends in terms of tourism and development," he said.
Health Minister Sham Lal Sharma said the facts about this year's Amarnath pilgrimage had to be seen in correct perspective as some of the facets were being exaggerated.  "107 yatris died last year against this year's only 86," he said.
The number of pilgrims visiting the cave shrine was more or less the same like last year while it was rumoured that seven times more went there, Sharma said.
Asked why the state government was not implementing the Nitish Sengupta Committee report on the annual yatra, the two ministers refused to comment.
The Nitish Sengupta Committee, set up in 1996, had recommended limiting the duration of yatra to just one month and the number of yatris per day to 3500 only.