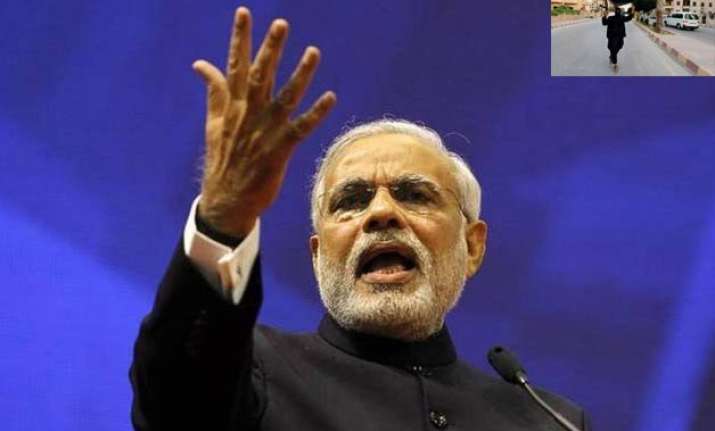 New Delhi: Amidst mounting concerns over radicalisation of youths by Islamic State, a nationwide effort has been launched to deradicalise some of the youngsters who may have been influenced by its ideology.
Muslim clerics, intelligentsia and leading members of the community are at the forefront of this initiative. Different ministries and government departments both at the Centre and states, including IT, social welfare, Home and Minorities Affairs, are also working in tandem.
Prime Minister Narendra Modi speech on Sunday at the concluding session of the 3-day DGPs conference, highlighted the major concerns and what he expected from relevant authorities to tackle this issue.
Here are top 10 points PM Narendra Modi speech contained:
1. Narendra Modi made a strong pitch for a "flexible instructional framework" under which police should establish links with local communities.
2. PM Modi said, "Sensitivity should be a vital element of policing and a flexible institutional framework should be built, which can help imbibe sensitivity towards citizens in the police force."
3. The Prime Minister told police officers that local communities must be taken into confidence in policing and technology should be used in tackling crimes. "Police forces should establish links with local communities and one way of doing this is to celebrate the successes and achievements of people in the community," he said.
4. Prime Minister said when people visit police stations to celebrate their achievements, they would also develop a greater understanding and respect for the work done by police officers.
5. PM Modi said, "In this exercise, people people in a community should identify with police stations."
6. Modi also sought greater interaction between the police forces of neighbouring districts across inter-state borders.
7. PM Modi expressed happiness over the quality and depth of the discussions during the three-day conference and observed that this was an indication of the dedication and professional competence of the police force.
8. PM Modi called for a clear roadmap to implement the recommendations that emerged from the conference.
9. The Prime Minister said the discussions and inputs involved both junior and senior officers, from across the country, and this had helped break silos, which is a significant achievement.
10. The Prime Minister praised the dedication and selfless service put in by the police officers, and their commitment to duty, which he said was the essence of the nationu2019s security, the statement said.