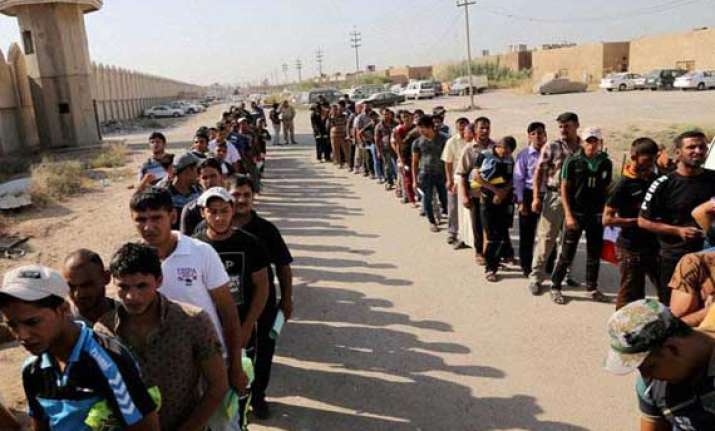 New Delhi: Nearly 2,200 Indians in Iraq's non-conflict areas wish to return home, with 117 of them set to reach the capital after midnight Sunday, it was announced Sunday.
The external affairs ministry said the government was buying tickets for some 1,600 of the 2,200 while the air fare for the other 600 were being paid by the companies in Iraq they worked for.
The announcement comes a day after 46 nurses from Kerala seized and freed by Sunni insurgents who have overrun vast areas in Iraq flew back to Kochi to a grand welcome.
The Saturday Air India flight later went to Hyderabad where 52 nurses from Telangana and 24 from Andhra Pradesh got off. Another 15 Gujaratis on the plane then flew to New Delhi before taking a flight to Mumbai.
External affairs ministry spokesman Syed Akbaruddin said New Delhi had deployed mobile teams of six people each in the Iraqi cities of Najaf, Karbala and Basra to facilitate the return of Indian nationals.
All the three centres are held by the Iraqi government based in Baghdad. The Kerala nurses were seized in Tikrit and driven to Mosul -- both places controlled by the insurgents -- before being transported to Erbil, capital of Kurdistan.
The spokesman said a total of 2,200 "have in some form or the other indicated their desire to leave" Iraq, which has plunged into a crisis in the wake of the Sunni offensive.