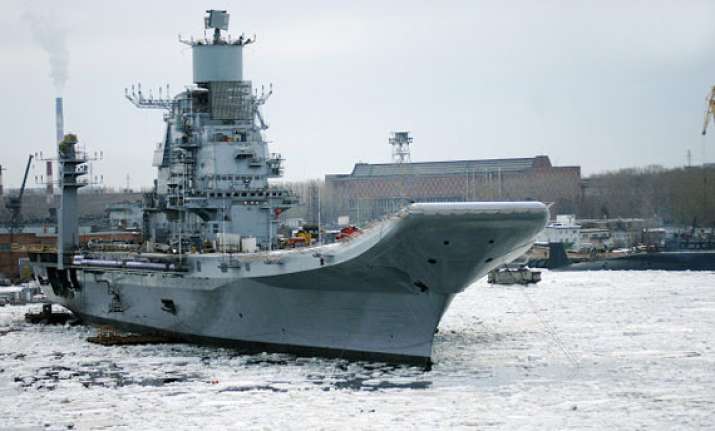 New Delhi: The Indian Navy has launched preparations to start flying operations from its prestigious aircraft carrier INS Vikramaditya.  
The MiG-29K fighter aircraft have started taking off from the ski-jump and making arrested landings.  But all this did not started smoothly.  
INS Vikramaditya faced embarrassing glitches during its home-bound voyage from the north Russian shipyard of Sevmash to the Karwar naval base in Karnataka, causing jitters in the defence ministry.
The aircraft carrier, bought second-hand from Russia and delivered five years behind schedule, reportedly suffered a boiler breakdown during its 42-day journey, compromising the warship's ability to cut through choppy seas at a top speed of up to 56 kmph, a navy source said.  
The vessel has a history of boiler problems with 2012 sea trials failing due to a design problem in the ship's boilers.
Moreover, the tanker accompanying the 44,500-tonne aircraft carrier failed to carry out a refuelling mission near the Portuguese coast, raising doubts about the navy's ability to replenish warships on the high seas.
INS Vikramaditya, which was accompanied by INS Trikand, which is a Talwar class frigate, INS Delhi which is a Delhi class destroyer and INS Deepak, the fleet tanker, fired ceremonial guns to salute the flag of the fleet commander Rear Admiral Anand Chawla, who was leading the flotilla of the Western Fleet, that also comprised aircraft carrier INS Viraat.