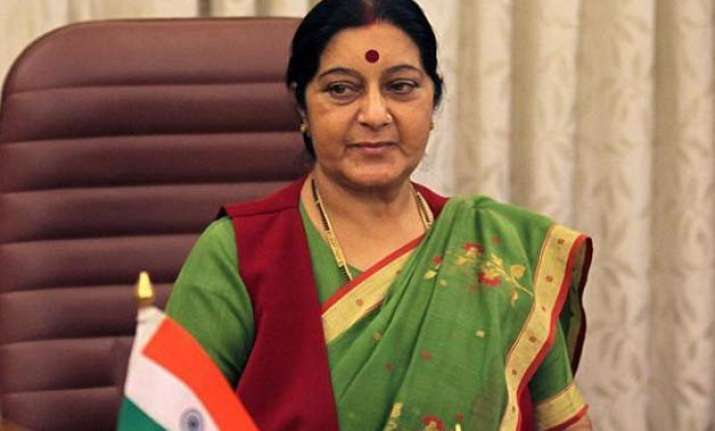 New Delhi: External Affairs Minister Sushma Swaraj today said her government was committed to ensuring a governance and regulatory system that is transparent, responsive and investor-friendly as it strives to create a fresh environment for growth and entrepreneurship.
She said that India is ideally placed to emerge as a powerful player in global manufacturing landscape and export markets and listed out recent initiatives to propel the growth trajectory that include the rolling out of the GST by April, 2016.
Swaraj said the Indian diaspora could be the most valuable partner in implementation of the flagship schemes of the government such as the Swacch Bharat Abhiyan, Clean Ganga, skill development, smart cities or GIAN.
"When I interact with our brothers and sisters abroad, I always ask them to keep one foot in India and nurture their roots by supporting the development efforts of the government," she said speaking at the third edition of the 'Growth Net' summit here.
Noting that roping in local bodies and state governments in outreach to the world is part of the government's broader effort, she said her Ministry has created "States Division" to implement the vision.
It will be responsible for liaisoning with the states for all trade and investment-related purposes.
"This will do away with the traditional one-size-fits-all approach and give a more local-needs based dimension to our foreign policy. We have also asked all our IFS officers to specialize in understanding the needs of two states of their choice," she said.
The External Affairs Minister elucidated government's efforts to empower the people so that their dependency on the state is reduced over time.
She said the intent is to move beyond entitlements and focus on areas that can create economic opportunities and freedom for the people such as skill development, financial inclusion, social security and education.
"This refreshing approach is in contrast to that of a heavy-handed, micro-managing state followed during most of this country's post-independence period that led to market distortions, inefficient outcomes and ineffectual implementation of well-intending schemes."
The Forign Minister said they have embarked on economic diplomacy to protect and promote economic and commercial interests abroad and to exploit the opportunities thrown up by the fast-integrating world.
"India's engagement, particularly economic engagement, with the rest of the world has grown and expanded significantly and it is only natural that our foreign policy is such that it contributes substantially to the growth story," she said.
Talking about a positive external environment in terms of trade and investment opportunities, the Minister mentioned 'Make-in-India' campaign helping India to ideally place itself as a powerful player in global manufacturing landscape.
She said Commerce Wings in the Missions abroad are being re-energized as the focal point of commercial activity and Make-in-India programme, for instance, "was launched and promoted with much vigour by our Missions abroad."
Referring to the Act East Policy of the government, she said the success of this policy is evident from the close engagement India has had with ASEAN countries in the last few months.
"I have myself visited Singapore, Vietnam and Myanmar and plan to visit Indonesia, Thailand and Malaysia this year," she said.
The policy is also reflective of the country's desire to move into a more proactive and action-oriented phase of India's Look East Policy, she added.