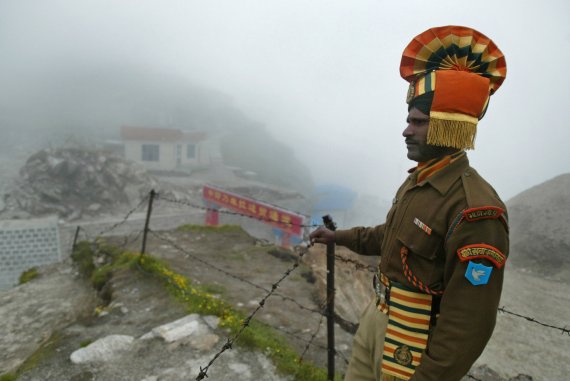 Beijing: Raising objections to India's plans to establish 54 new border posts along the border in Arunachal Pradesh, the Chinese military today said that India should shun moves that "may further complicate the situation" and do more to maintain peace in the "disputed area".
"We have taken notice of the reports. China and India have disputes over the eastern part of their border," Defence Ministry Spokesman Yang Yujun told a monthly media briefing here.
"We hope India will try to help maintain stability and peace in the border areas, instead of taking moves that may further complicate the situation," Yang said.
Reporting on the briefing, state-run Xinhua news agency made no mention of Arunachal Pradesh and instead referred to it as Southern Tibet.
China claims Arunachal Pradesh as southern Tibet. Asked why China is wary of India's development of infrastructure along the border to improve the living standards of people while China itself has carried extensive development in Tibet, Yang said the roads in the eastern part of the China-India border area which is still disputed.
"China's position on the dispute in this area is clear and consistent. It is an important consensus reached by the two sides to maintain peace and stability along the Line of Actual Control and both sides should do more towards converging direction rather than contrary," he said.
Indian government last week announced setting up of 54 new border outposts and a Rs 175 crore package for beefing up the infrastructure along the border in Arunachal Pradesh.
Yang's comments on the border posts and the road network along the Arunachal Paradesh was in line with the views expressed by the Chinese Foreign Ministry earlier on the issue.
"We are committed to finding a solution to the boundary question with the Indian side through friendly negotiation as soon as possible," Chinese Foreign Ministry Spokesperson Hua Chunying had said earlier.
"Pending the final settlement of the boundary question, we hope that the Indian side could refrain from taking any action that may complicate or exaggerate the question," she said reacting to border posts plan.
Chinese Foreign Ministry has also reacted earlier on the plans announced by Minister of State for Home, Kiren Rijiju to construct a road network along the international boundary from Mago-Thingbu in Tawang to Vijaynagar in Changlang district of Arunachal Pradesh to match the China's infrastructure development.