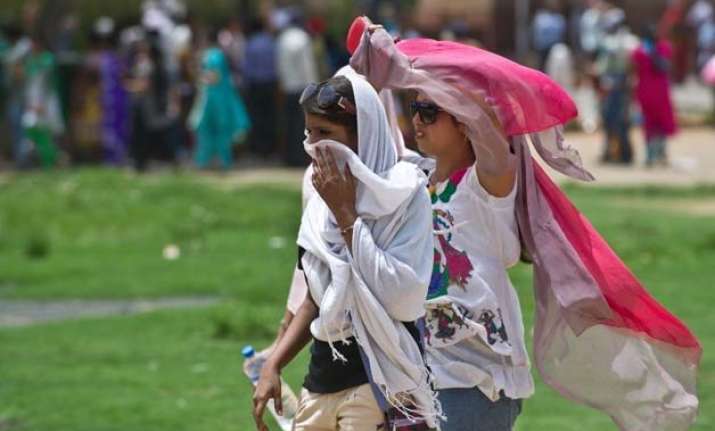 New Delhi: India is presently reeling under the world's fifth most deadliest heat wave. Also, it is the second most deadliest heat wave in the country after 1998.
The 1998 heat wave had claimed 2,541 lives. The 2003 heat wave in Europe was the world's deadliest when 71,310 people were reported dead.
In 2002 and 2010, over 1000 deaths were reported from several part of the country due to heat wave related incidents.
This year, so far nearly 2,000 people have died due to intense heat wave with maximum deaths reported from Andhra Pradesh and Telangana.
There was no relief from the heat wave in Andhra and Telangana yesterday. Despite showers and thunderstorms providing some relief, the day temperatures in Andhra Pradesh and Telangana remained higher than the average with couple of towns sizzling at 47 degree Celsius. Showers and thunderstorms brought much-needed relief to people in the two Telugu states reeling under scorching summer temperatures for last two weeks.
However, the day temperatures remained high in parts of the two states. Ramagundam in Telangana and Jangamaheshwarapuram in Guntu district of Andhra Pradesh sizzled at 47 degree Celsius.
According to Hyderabad Meteorological Centre, maximum temperature fell at one or two places in coastal Andhra Pradesh but rose at one or two places in Rayalaseema. The temperatures remained above average in both the regions.
Meteorologists have warned that heat wave conditions may continue in Telangana for another 24 hours till Sunday evening. Isolated rains Friday night brought some relief to people in Telangana but have not cooled down the weather. The maximum temperature at many places continued to be three to five degree above average.
Nalgonda, Nizamabad, Adilabad and Hanamkonda recorded 45 degrees. It was 44 degrees in Khammam, Mahabubnagar and Medak and 43 degrees in Hyderabad.
The heatwave, the worst in decades, has claimed 1,979 lives in the two states.
Andhra Pradesh bore the brunt with 1,490 deaths while 489 people died in Telangana.
Chandrapur in Maharashtra was the hottest place yesterday with the maximum temperature recorded at 48 degrees Celsius - the highest recorded in the state so far - and two points higher than Friday's 46 degrees - though there were no officially recorded heatwave casualties in the state so far.
Nagpur followed with 47 degrees Celsius while Wardha stood at 46 degrees and Akola remained constantat Friday's 45 degrees. Yavatmal also remained constant at 44 degrees, while Jalgaon notched up a degree from 43 to 44 since Friday.
While Solapur and Parbhani recorded 43 degrees Celsius, Aurangabad and Amravati recorded 42 degrees; Nanded, Osmanabad and Buldhana were slightly comfortable at 41 degrees Celsius each.
The temperature in coastal areas like Mumbai remained constant at 35 degrees on Saturday while other seaside districts like Raigad and Ratnagiri stood at 34 degrees, but with high humidity levels.
The intense heat wave continued unabated in Rajasthan on Saturday with Kota recording a maximum temperature of 44.5 degrees Celsius, the India Meteorological Department (IMD) said. State capital Jaipur recorded 43.7 degrees Celsius - 3 degrees above normal.
Churu was scorching at 44.2 degrees Celsius, followed by Jodhpur at 44, Barmer at 43.4 and Udaipur at 43.
According to weather department officials, the state is not likely to see much change in temperature in the next 24 hours to Sunday evening while heatwave conditions are likely to prevail in the eastern part of the state.
"Heatwave condition is likely to prevail at some places in east Rajasthan during next 24 hours. Dust storm or thunder storm with squall could occur at isolated places in the state in the next 24 hours," an official told IANS on Saturday evening.
Himachal Pradesh continued to sizzle on Saturday and recorded a maximum temperature of 41.7 degrees Celsius. Its capital city Shimla recorded a high of 27.1 degrees Celsius, weather officials said.
"Most of the towns recorded a maximum temperature of three to five notches above the average, mainly due to the dry weather," a meteorological department official said.
He said Shimla's maximum temperature was four notches above the average.
Sundernagar in Mandi district recorded a high of 37.3 degrees Celsius, while the maximum temperature in Bhuntar in Kullu district was 32.2 degrees. Dharamsala in Kangra district was 33.2 degrees and Kalpa in Kinnaur district was 17.2 degrees Celsius.
The Met department said a fresh western disturbance would be active in the region between June 1 and 2 with chances of rain and thundershowers across the state.
A heat wave is a period of abnormally high temperatures, more than the normal maximum temperature that occurs during the summer season in the North-Western parts of India. Heat Waves typically occur between March and June, and in some rare cases even extend till July.