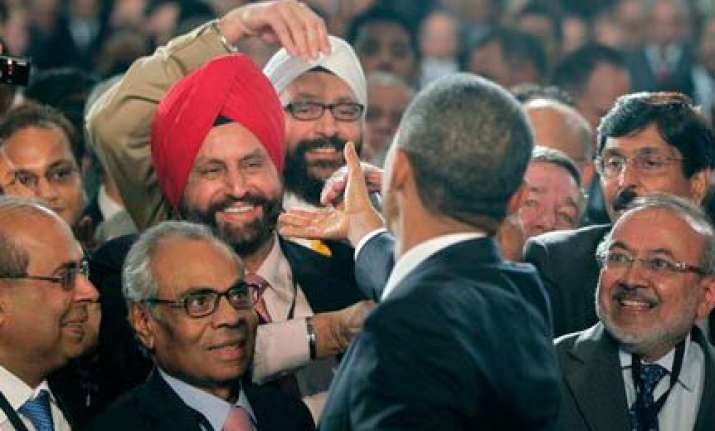 Mumbai, Nov 6 (PTI) India Inc today greeted with loud applause US President Barack Obama's assurance to reciprocate India's efforts to reduce trade barriers to strengthen partnership, saying it will be a "win'win" situation for both.
"This was a very clear articulation of what the two nations can do with each other. A clear sign of laying down the fact that it can be a win-win for both the nations and it does not clearly have to be one at the cost of other," ICICI Bank CEO and MD Chandra Kochhar said after Obama's address to the US-India Business Council.
Expressing confidence that he was absolutely sure that relationship between the two nations was going to be one of the defining partnerships of the 21st century, Obama asked India to reduce trade barriers, while committing to reciprocate.
"There is no reason why India cannot be our top trading partner (from 12th position now)... I'm absolutely sure that the relationship between India and the US is going to be one of the defining partnerships of the 21st century," Obama said.
There is a realisation in the US that a growing India is not a threat to them (US) because they don't run a trade deficit with India (unlike with China), Confederation of Indian Industry (CII) president Hari S Bhartia said.
Other industry and banking leaders described the future of the Indo-US relationship as one of mutual benefit.
Reacting to the US President's speech, CEO of Infosys Technologies Kris Gopalkrishnan said that such measures will lead to growth and job creation in both the countries.
"It is not about job creation in one place but in both places. He (Obama) talked about keeping the markets open for both products and services... creating a win-win. I think that is where we need to go forward," he said.
Just before the address, Reliance Power announced equipment deal for 2,400 MW Samalkot plant in Andhra Pradesh from GE, and low-cost carrier Spicejet announced a pact to buy 30 new generation 737 aircraft from Boeing.
On the occasion, Obama said these deals barely scratched the potential and dubbed India as the market of the future where Washington was willing to step up investments, provided uncertainties relating to tariffs and other barriers were addressed.
"This big message is the one to remain and engage which is a big positive," Bharti Enterprises Vice Chairman and MD Rajan Bharti Mittal said.
Srichand Hinduja of the Hinduja Group said relationship between the world's two biggest democracies portends well for both.