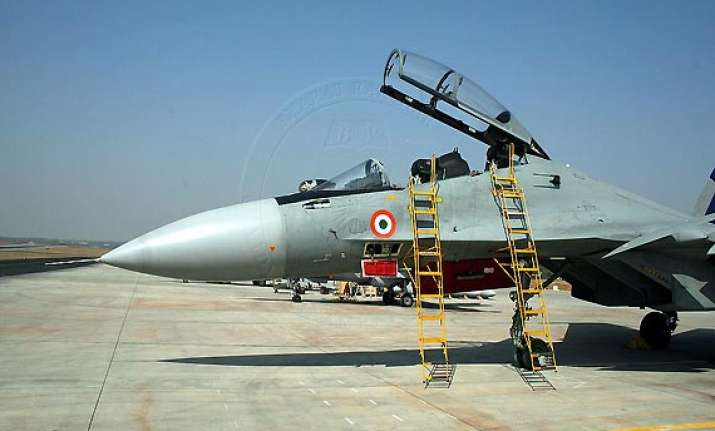 New Delhi, Nov 12: India has opened talks with Russia to upgrade its fleet of air superiority Sukhoi Su-30s with a new radar and avionics to make the fighters more lethal than what they already are. The upgrades are likely to begin in 2015.
However, a debate is currently in progress between the two nations on India getting full access to all software and equipment design of the new systems that will be integrated on the upgraded Sukhois, a senior Indian Air Force (IAF) officer told IANS.
"We have begun talks with Russia on modifying the Sukhois and giving them the latest technologies," the officer said of the combat jets that were first inducted by IAF in 1997.
The planes, considered to be in the heavy category of fighter aircraft, are the most advanced the IAF has and is the frontline plane for all forms of airborne warfare.
"The modified Sukhoi will be an entirely new plane in terms of radar and avionics," said the officer, who is in the know of the discussions with Russia.
"We are currently holding a dialogue with Russia for full access to software and design of equipment to be integrated to the aircraft," he added.
India has raised eight of the 14 planned Sukhoi squadrons till now with the ninth squadron planned for raising in Sirsa, Haryana, in December.
Six months from then, India will raise its 10th Sukhoi squadron in the Punjab sector under the Western Air Command.
This will be the third and fourth Su-30MKI squadron of the IAF to be deployed close to the Pakistan border in two years, after Jodhpur in Rajasthan in October 2011 and Halwara in Punjab in September 2012.
It also plans to raise two more squadrons in the eastern sector, adding to the existing two squadrons there.
Besides, four more Sukhoi squadrons will be raised by 2015, completing the entire 272-plane complement of the fleet.
After the raising of these squadrons, India will start upgrading the fleet beginning with the first 50 Sukhois it had inducted in 1997.
India has till now lost three Sukhoi planes in crashes - the first one in April 2009, the second in November 2009 and the third in December 2011. While two IAF pilots were killed in the first accident, two pilots each bailed out to safety in the second and third crashes.
The twin-seater Sukhois are also being modified for carrying the India-Russia joint venture BrahMos supersonic cruise missile.