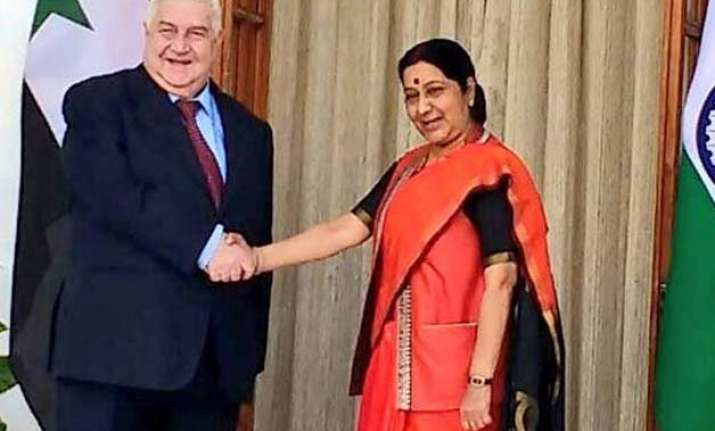 New Delhi: India and Syria today held wide- ranging talks, focusing largely on the internal situation in the war-torn country and the UN-backed peace process aimed at ending the strife which has claimed lives of over 2.5 lakh people in the last five years.
Syrian Deputy Prime Minister Walid Al Moualem, during the talks with External Affairs Minister Sushma Swaraj, appreciated India for its support to the people of Syria and its position in finding a solution to the civil war.
Swaraj conveyed to Moualem, who is also Minister of Foreign Affairs, that India was sending medicines worth USD 1 million to Syria soon. India will announce further assistance to the country during a conference on Syria in London on February 4.
She also sought Syria's help in ascertaining status of 39 Indians who were taken hostage by ISIS militants from Iraqi city of Mosul in June 2014. Moualem assured Swaraj that he will use his sources in Iraq to know whereabouts of the Indians.
The Syrian Deputy Prime Minister met National Security Adviser Ajit Doval last evening during which challenge of combating terrorism, particularly to deal with ISIS, is understood to have figured.
Moualem, who visited Russia and China before arriving here yesterday, gave a detailed exposition of how Russian air strikes have weakened the capabilities of ISIS in Syria as well as about the UN-backed peace initiative.
"The Syrian Deputy Prime Minister appreciated India for its support to people of Syria," External Affairs Ministry Spokesperson Vikas Swarup said. India has been consistently maintaining that a solution to the conflict must be found through a Syrian-led peace initiative.
Russia has been carrying out air strikes in Syria in support of President Bashar al-Assad since September, targeting the terror outfit ISIS which has seized vast swathes of land in that country.
India has been supportive of the Russian strikes maintaining that terror groups must be dealt with effectively.
The peace talks are slated for later this month and Moualem has already said that Syria was ready to participate in it.
The US, the UK and France are pressing for the ouster of the Syrian President to have a peaceful resolution of the conflict but Russia and China are against the move.