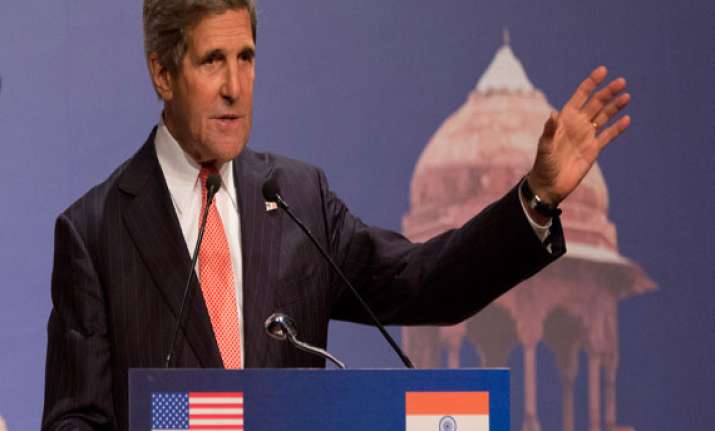 New Delhi, June 24: US Secretary of State John Kerry on Monday suggested that India could help Afghanistan in the holding of transparent and free presidential elections next year.
Stating that India has made $2 billion investment in development projects in Afghanistan, Kerry said that India should do whatever it can in its relationship with Afghan President Hamid Karzai to "encourage" him to ensure that preparations are in place for the elections.
The presidential polls will see Afghanistan getting a new president after Karzai who had been in power for more than a decade.
"The elections should be transparent, accessible, accountable, free and fair," Kerry said, stressing that India should help to see that preparations, including an independent election commission, are in place.
"So that the people of Afghanistan should have no questions," he said during a joint press conference at the Hyderabad House with his Indian counterpart Salman Khurshid.
On Sunday evening, during a talk, Kerry had first proposed the matter of India playing a "critical role" in the Afghan elections.
He had said that India "the world's largest democracy can play a critical role in supporting these elections". New Delhi could help "Afghanistan in improving the electoral system in creating a credible and independent framework for resolving electoral disputes", he said.
Kerry is here on a three-day visit, his first to India in his present capacity, to attend the fourth of India-US Strategic Dialogue.
He also said the US would "continue to support" the Afghan government militarily, continue to equip and train the Afghan forces well beyond 2014 and also have forces on the ground for terror and counter terror activity.