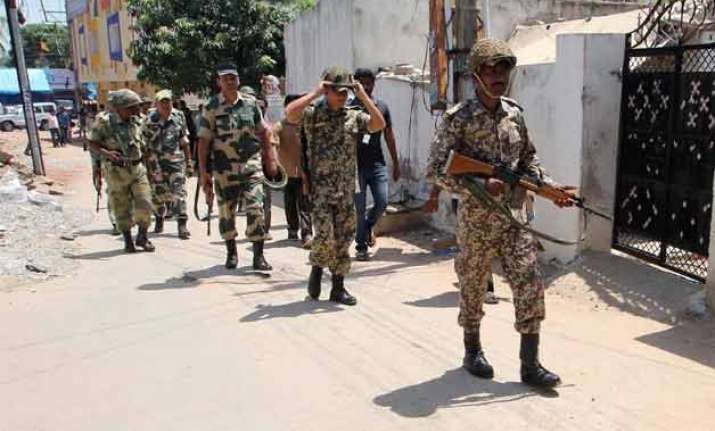 Imphal:  A class XI student was today killed after school students demanding implementation of Inner Line Permit system in Manipur confronted the police, following which an indefinite curfew was clamped in Greater Imphal area.
Sapam Robin Hood of Anand Singh Higher Secondary School was hit on his face by tear gas shells lobbed by the police to quell a protest in support of the movement this afternoon at Minuthong area in Imphal East district.
He was rushed to the hospital where the boy succumbed to his injuries, hospital sources said.
Imphal police control confirmed the student's death.
Sapam was among a large number of students from leading schools of Imphal who joined the protesters to demand the introduction of a bill in the current assembly session, for Inner Line Permit system in the state.
The curfew was ordered separately by district magistrates of both Imphal West and East districts.
The prohibitory order was clamped at 4 pm today and would continue till further notice, the directive said.
The protests were a take off of the 19-hour general strike in the state by the Joint Committee on Inner Line System (JCILS) which ended last evening.
JCILS is demanding scrapping of Manipur Regulation of Visitors Tenant and Migrant Workers Bill, 2015 and passing of a new one to "safeguard the interests of indigenous people and fulfil their aspirations".
The Bill, JCIL said, was passed during the budget session of the assembly without taking into consideration its suggestions and allowed migrants to work in the state.
The government had "betrayed" the people of the state by passing the legislation, it said.
The bill is yet to get the nod of the governor and JCILS had held frequent protests during the ongoing assembly session against it.
Hospital authorities have claimed that about 37 students injured in the protest have sought treatment.
Earlier in the day, women volunteers of JCILPS gheraoed the private residence of Speaker Th Lokeshwar Singh at Keishampet in Imphal West district to prevent him from attending the assembly.
However, the Speaker was at his official residence and attended office.
The gherao was later withdrawn, police said.