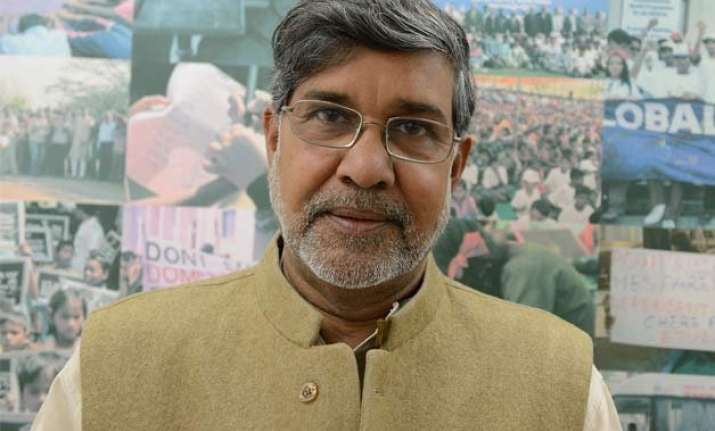 Chandigarh: Lamenting that children were not a "political priority" in the country, Nobel laureate and child rights campaigner Kailash Satyarthi today appealed to the Centre to implement the toughest law to put an end to their exploitation.
"...Children are not our political priority which is quite unfortunate. Besides political, children are also not social, religious priorities in the country," Satyarthi said during a Meet-The-Press programme held here this evening.
Saying that the present law in the country "could not stop" child labour completely, Satyarthi, 61, appealed to the Centre to implement tough law to completely eradicate child labour and child slavery.
"Today, there is no law in the country which can completely eradicate child labour," he claimed.  He said a law enacted in 1986 prohibits child labour only in non-hazardous occupations.
"Today, 80-85 per cent cases involving child labour in the country are not banned...present law on child labour allows child labour up to the age of 14 in non-hazardous occupations," he said, adding that Child Labour Law was contrary to the Right to Education Act and Juvenile Justice Act.
Stressing upon changing the mindset towards children, Satyarthi further asked from the government to implement the new law on child labour, which has not been tabled in Parliament yet.
"We are appealing to the government, all MPs that the law (on child labour) which has been lying in the Parliament be passed," he said.
He further said that he had even raised this issue with the previous government at the Centre and now with new government.
"The new law was passed by the Cabinet, Standing Committee. But it has not been tabled yet. The last government came and went and now the new government is there," he said.
Talking about the new law on child labour, Satyarthi said it prohibits child labour completely up to the age of 14 years.
"Children between the age of 15-18 years will not be allowed to work in non-hazardous occupation. This law also ensures proper rehabilitation of these children," he said.
Taking a jibe at the funds allocated for children in the new budget, Satyarthi said, "You will be surprised to know that only 4 per cent of total budget has been earmarked for children up to the age of 18 years who constitute about 41 per cent of our population."
"In the past, our economic condition was not good. But today we are regarded as the one of fastest growing countries in the world. Therefore, we should initiate in this regard," he said.
Satyarthi also said that he has also asked that the ending child slavery should be one of the priorities in the world's Sustainable Development Goal which will be effective from 2016.
The child rights crusader also stressed on providing quality education to children if India wants to become a progressive and developed nation.
"We have observed only 20-25 per cent of our youth gets quality education. Our universities even do not figure in first 100 universities across the world. If we have to become progressive nation, Swachh Bharat, then we have to develop ourselves as child friendly nation," he said.
Throwing light on thriving trade of sale and purchase of children, Satyarthi said that he had saved girls belonging to Assam, Arunachal Pradesh who were sold at Rs 5,000 in Delhi.
"Girls are being sold between Rs 1 to 1.5 lakh for marriage in states like Haryana...they are being sold at Rs 2 lakh for prostitution, at Rs 50,000 for domestic help. Girls are being sold at a price even lesser than that of animals," he said.
The Nobel Peace Prize winner even appealed to Punjab and Haryana governments for taking steps in protecting children from labour in factories, being used for domestic help and also being sold as bride.
Earlier speaking, Satyarthi said that he had handed over his Nobel medal to President of India Pranab Mukherjee in order to dedicate it to the nation.
"The medal is now kept in the President's Museum as the nation's most important heritage," he said, adding that he had earlier written a letter to the President for handing over the Nobel medal.
Satyarthi said after he received the Nobel prize, he was told by the President that only one Nobel medal which was given to Rabindranath Tagore in Literature, got stolen.
"President told me that only one Nobel medal which was in India was stolen. Then he told me that he even got a replica made of that medal which was even taken away by the Tagore's relatives," he claimed.