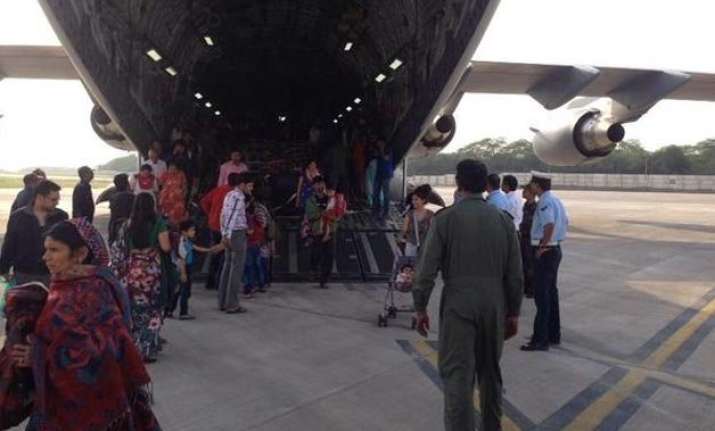 New Delhi: Stepping up its relief and rescue efforts, India has evacuated 1,935 stranded Indians from earthquake-hit Nepal, even as a fresh feeble tremor today jolted the battered Himalayan nation.
The Indian Air Force flew 12 sorties to bring back Indian nationals including many children.
"Despite bad weather in Nepal, IAF continued its operation last night. As of now, IAF has evacuated 1,935 passengers from Kathmandu through 12 aircraft sorties," spokesperson, Ministry of Defence, Sitanshu Kar said.
A top Indian official has described the situation in the Himalayan nation as "very, very serious".
Nearly 1,000 trained personnel of the National Disaster Response Force (NDRF) have been also pressed into service after Nepal was struck on Saturday by the worst earthquake in 80 years.
The death toll rose to 3,218 on Monday. Tens of thousands spent the night sleeping in parks or on a golf course. Others camped in open squares lined by cracked buildings and piles of rubble.
Aid workers also warned that the situation could be far worse near the epicenter. The U.S. Geological Survey said the quake was centered near Lamjung, about 80 kilometers (50 miles) northwest of Kathmandu.
The earthquake was the worst to hit the South Asian nation in more than 80 years. It destroyed swaths of the oldest neighborhoods of Kathmandu and was strong enough to be felt all across parts of India, Bangladesh, China's region of Tibet and Pakistan.