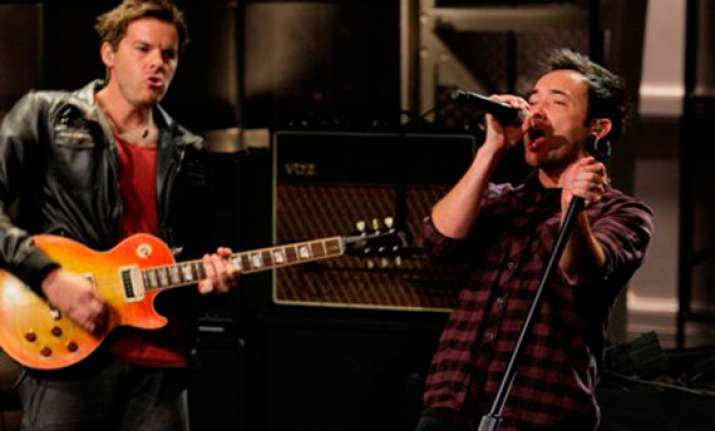 Shillong, Jun 30: Over 12,000 fans gathered at the fifth Ground at Polo to witness the internationally acclaimed American rock band 'Hoobastank' performing live in the "Scotland of the East," dubbed to be their first ever show in India.
The four-member band fronted by Doug Robb mesmerised fans from the North-East region with their famous hit albums -- "The Reason" and "Fight or Flight."     
People enjoying the show were also made to sing along quite a number of songs of the band.     
The band is playing their debut India show at the sixth anniversary celebrations of the news and arts magazine, The North East Today.     
The show has also attracted people from neighbouring states like Assam, Mizoram, Manipur.    
"I drove around 4-5 hours from Guwahati down to Shillong, just because I don't want to miss this opportunity," a college student from Assam, who came along with his group of friends, said here.     
The group shouted, "We are here because we are the greatest fans of the band! They are so amazing, just love their music!"     
Another fan from Shillong said, "I could not believe my eyes that I am really seeing them played before me."     
Despite heavy downpour, the crowd continued to stand in the rain while the music of the band resonated in the entire Polo area.