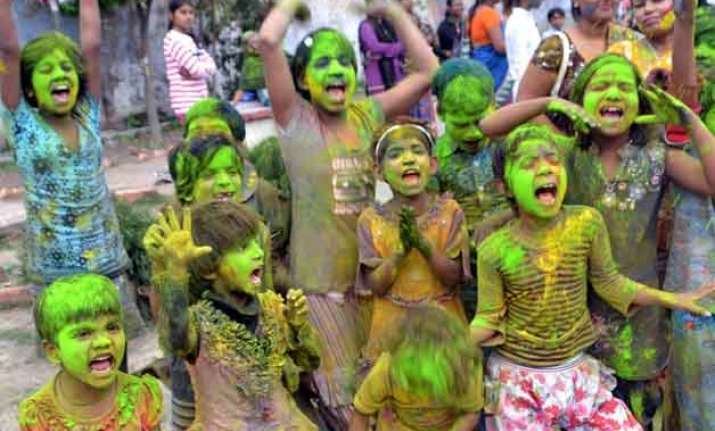 Lucknow: Swine flu and the chilly weather are likely to play spoilsport during Holi in Uttar Pradesh.
The rise in the swine flu toll to 16 coupled with a dip in the mercury are proving to be a dampener this Holi, with some people deciding to skip the 'Holi Milan' -- a gathering to celebrate the festival.
Revellers here intend to curtail their plans for Holi on Friday.
Many old timers, the self-proclaimed 'Holi hullad' team at Aashiana colony here, have called off the 'Holi Milan' where they meet with neighbours over a pooled lunch.
"The disease and then the weather have forced us to call off the annual event and postpone it to a later date when things are normal," says a somewhat crestfallen Anushmali Tiwari, a businessman.
He added that this Holi would "largely be an indoor affair because of the kids being at the risk of swine flu."
Satish Chandra Dubey, a resident of Niralanagar, too has decided to "cut down on the festivities".
With his children and wife in Mumbai, the retired doctor says he would be "with himself" after downing a peg or two of bhang laced thandai (a narcotic laced drink) that his neighbour offers.
"With the scare of swine flu and the high prices of all items, who has the will to celebrate," Dubey said.
Aarti Mishra, a teacher at an inter college and resident of Sitapur road, is equally dejected.
Claiming to be a die hard Holi fan who has previously never missed celebrations with friends, relatives and neighbours, Mishra says this time her Holi will be a "little down under" owing to the poor health of her husband.
"My husband is down with fever, hence the excitement is not the same," she says with a wry smile.
Assem Nandi, an architect who recalls umpteen Holi celebration stories, is also cautious this time.
"My throat has a problem. People are finding it difficult to recognize my voice on the phone...seems I have caught a cold...Holi can wait for the next year, for now its health," Nandi said.
Ashish Gupta, a prominent grocery shop owner near Aurobindo Park in Indiranagar, also speaks of "low business" this Holi and says people are not buying wet colours largely due to the weather and the H1N1 scare.
State politicians too don't seem very excited about the festival.
Barring former parliamentarian and state Urban Development Minister Lalji Tandon who, as usual, has lined up a major Holi do with colour and thandai in full flow, most politicians are keeping a low profile.
Samajwadi Party (SP) chief Mulayam Singh Yadav is not in good health and is likely to make it a quiet Holi.
Chief Minister Akhilesh Yadav has cancelled his Berlin trip and has settled for some celebrations at his native village Saifai in Etawah, sources say.