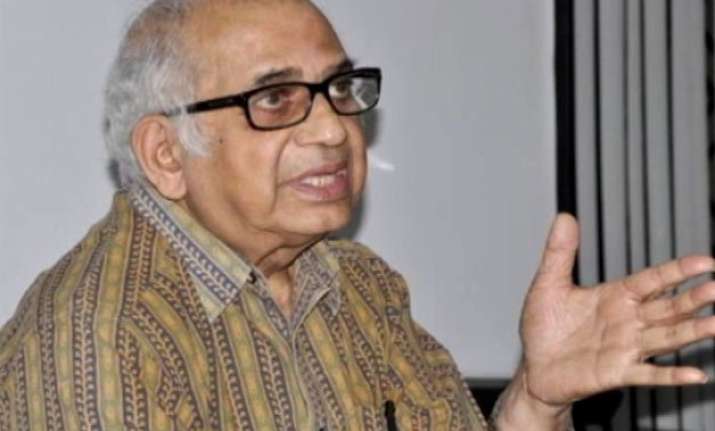 New Delhi: More than top 50 historians have joined the group of writers, filmmakers and scientists protesting against 'growing religious intolerance in the country'.
On Thursday, the historians came out strongly against Prime Minister Narendra Modi for not making any 'reassuring statement' following concerns over 'highly vitiated atmosphere' prevailing in the country.
These historians include Romila Thapar, Irfan Habib, DN Jha, KN Pannikar, Neeladri Bhattacharya, Amar Farooqui, Mridula Mukherjee, Nayanjot Lahiri and Delhi University professor Upinder Singh.
"When writer after writer is returning their award of recognition in protest, no comment is made about the conditions that caused the protest; instead the ministers call it a paper revolution and advise the writers to stop writing. This is as good as saying that intellectuals will be silenced if they protest," a statement released by the Safdar Hashmi Memorial Trust (SAHMAT) said.
The SAHMAT statement also referred to the 'delayed and sparse response' from the Prime Minister after these incidents and President Pranab Mukherjee's intervention in the form of an exhortation to maintain the social fabric of the country.
While referring to Dadri lynching incident and the ink attack on Sudheendra Kulkarni, the statesmen said that 'differences of opinion are being sought to be settled by using physical violence and that arguments are met not with counter arguments but with bullets'.
Protest by historians came in the wake of several top ministers alleging that 'so-called intellectuals' with Left-leanings, who benefitted from past Congress rules, are indulging in negative campaigns against the government.
The SAHMAT also demanded the government to 'ensure an atmosphere that is conducive to free and fearless expression, security for all sections of society and safeguarding of the values and traditions of plurality that India had always cherished in the past'.
Several writers, filmmakers and top scientist PM Bhargava have in recent time returned their awards against the killing of a Muslim man in Dadri over rumours of beef and the murder of author MM Kalburgi, allegedly for his rationalist views.
Meanwhile, actress Vidya Balan has said that she will not return her National Award as it was an honour bestowed on her by the country and not by any specific party.