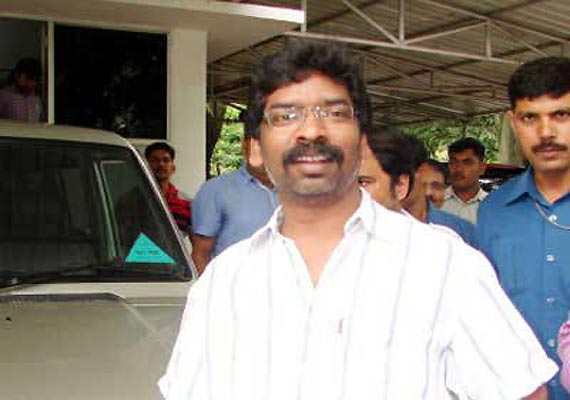 Ranchi, July 22: Jharkhand Chief Minister Hemant Soren won the trust vote July 18 but is delaying the cabinet expansion to keep the alliance partners together to sail through the monsoon session of the assembly beginning July 25.
Political analysts believe Soren faces a tough time as a majority of legislators, including independents, are clamouring for cabinet berths.
Sources said the cabinet expansion will take place after the monsoon session ends July 27. Jharkhand Governor Syed Ahmad will address the house July 25 after the trust vote. The state government will table the supplementary budget July 26.
The Congress-supported government in the state will aim to pass the motion of thanks and supplementary budget during the monsoon session.
Soren left for New Delhi Sunday to finalise the shape of the cabinet with Congress leaders.
Soren enjoys the support of 43 legislators in the 82-member house. Backing him are 18 Jharkhand Mukti Morcha (JMM) legislators, 13 Congress, five RJD and seven from smaller parties or independents.
The seven legislators are Arup Chatterji of the Marxist Coordination Committee (MCC), Enos Ekka of the Jharkhand Party (JP), Bandhu Tirkey, Geeta Koda (wife of former chief minister Madhu Koda), Videsh Singh, Chamra Linda and Harinarayan Rai.
Tirkey on Monday countered union Minister Jairam Ramesh's statement that no independent would be inducted into the cabinet.
"We supported Hemant Soren, not Jairam Ramesh," Tirkey said Monday, adding that Soren had assured him of a cabinet berth.
At least 10 JMM legislators have openly demanded cabinet berths. They include Simon Marandi, Hemlal Maurmu, Haji Hussain Ansari, Akil Akhtar, Mathura Mahto, Lobin Hemrom, Champai Soren, Jai Prakash Patel and Polus Surin.
Jharkhand can have a maximum of 12 ministers, including the chief minister. As per the understanding among the alliance partners, the JMM and the Congress will have five ministers each and two berths will go to the RJD.
"The names of legislators who would get cabinet berths has almost been decided. The cabinet expansion will take place after the monsoon session" a JMM leader told IANS on the condition of anonymity.