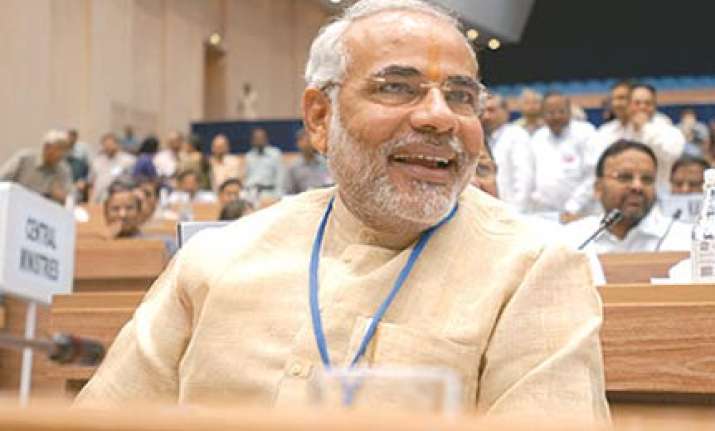 The Gujarat High Court on Monday asked the Nanavati Commission, which is probing the 2002 riots, to clarify by April 1 whether it has taken a final decision not to summon Chief Minister Narendra Modi for questioning.
The court sought this information from the government pleader, a day after Modi failed to appear before the Supreme Court-appointed Special Investigation Team(SIT) which had summoned the senior BJP leader for questioning on March 21 in connection with the riots in Gulburg society here.
A division bench of Chief Justice S J Mukhopadhaya and Justice Akil Kureshi posed the query while hearing an appeal by Jan Sangarsh Manch (JSM), an NGO representing the 2002 riot victims.
The court order came even as Modi explored legal options on responding to SIT summons. Senior BJP leader Arun Jaitley is also expected to have discussions with Modi on this issue.
When the matter came up for hearing today, the court asked the pleader to get a clarification from the Nanavati Commission by April 1 with regard to its September 2009 order and inform whether its decision not to summon Modi and others was a final decision or a tentative one.
Nanavati Commission, in September last year had disposed of JSM's application asking for summoning of Modi and others saying that it did not find justification in cross-examining them at that point of time for the purpose stated by JSM.
The Commission had further stated in the order that allegations made in JSM's application were vague and based on wrong or unwarranted assumptions.
JSM had sought quashing of the Nanavati Commission's order in the Gujarat High Court and prayed that Modi and three others -- the then home minister Gordhan Zadafia, health minister Ashok Bhat and DCP Zone 5, R J Savani-- be called for cross-examination with regard to the 2002 riots.
 A single bench of Justice K S Jhaveri dismissed JSM's petition in November last year saying that the Commission has not completed its inquiry and still has power to summon Modi under section 8(b) of Commissions of Inquiry Act.
The JSM then filed an appeal before a division bench where it sought quashing of Commission's order and issuance of summons to Modi and three others for cross examination with regard to the 2002 riots. The Nanavati Commission had last month informed the High Court on the status of its inquiry. PTI