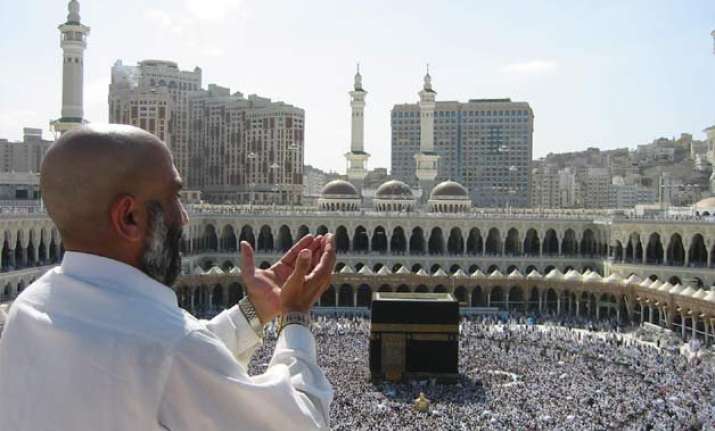 New Delhi: Haj is considered as the biggest Muslim pilgrimage to the holy destination of Mecca in Saudi Arabia.
As the Haj pilgrims from India have begun their journey to Mecca, an advisory has been issued to them by the Haj Committee of India (HCOI).
HCOI, which comes under ministry of external affairs, has asked the pilgrims not to carry any sexual stimulants like Viagra tablets, sexual oil, creams, etc. in the journey.
The advisory issued also stated that pilgrims must not carry products banned for import into the Saudi Arabia.
The advisory said that despite issuing guidelines and holding training sessions, pilgrims were caught with Viagra tablets, sexual oil, creams, etc during Haj 2013 and 2014.
Nevertheless, Indian pilgrims going on Haj to Saudi Arabia will have to mandatorily get vaccinated for seasonal influenza including meningococcal meningitis. Reportedly, the vaccination is taken at least 10 days before pilgrims arrive into the holy cities.
Ataur Rahman, CEO, Haj Committee of India was reported saying of issuing several guidelines, some pilgrims in the past were  even found to be smuggling things which are banned in Saudi Arabia including the sexual stimulants.
While HCOI has added the advisory in the Haj application forms, it was strictly opposed by a section of community leaders.
The community leaders believe that pilgrims themselves refrain from sex during Haj and issuing such an advisory will only tarnish the image of Muslims. They were also reported saying that a general advisory against carrying items sexual stimulants will present Muslims as sex maniacs who cannot do without sex even during Haj.
However, the advisory stated that this is a serious issue and needs to be dealt with seriously. The advisory also includes a list of other prohibited things like khash-khash, synthetic capore, cystone, khammera, gutkha, khaini, gul, piper mint or narcotics in any form, political literature and even photographs. It is also mentioned that people found carrying these items are liable to punishment including life imprisonment and even death penalty.
While flights have started taking off from August 16 for the Haj, it will be performed on September 22.