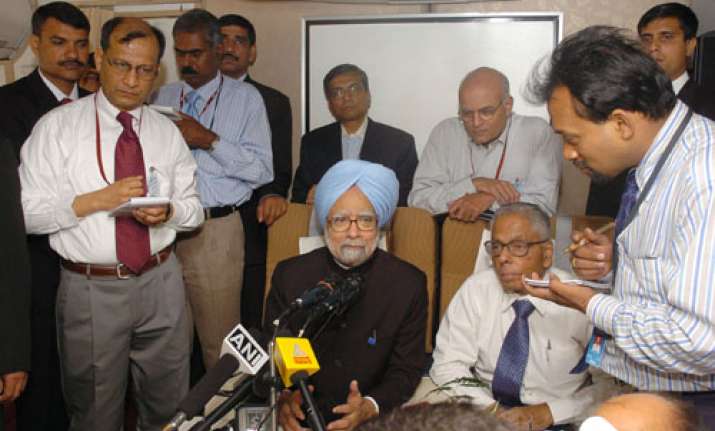 On Board PM's Special Aircraft, Jun 23:
Prime Minister Manmohan Singh today said his government will work its way to restore the momentum of growth in the wake of the economic slowdown and sought cooperation from all political parties, whether it is Trinamool or others.
Asserting there is no stagflation, Singh said he was still confident that the growth rate of the economy will improve to about seven per cent per annum. The economic growth has fallen to 5.3 per cent, a nine-year-low.
The Prime Minister also said that any obstacles or policy impediments that would come in the way of foreign investment -- both portfolio and direct—would be addressed "effectively and credibly."
Fresh from attending the Summit of Group of 20 developed and developing countries in Mexico, the Prime Minister said India must plan its economy in a manner that it cannot expect outside help on a scale which can see it through its difficulties.
"We have to raise our economy through our own good steps," he told reporters accompanying him on his return from Mexico and Brazil after attending two international summits.
The prime minister did not spell out specific details of what the government planned to do to tackle the slowdown but said problems of fiscal management and balance of payment on current account deficit will be tackled "effectively and credibly."