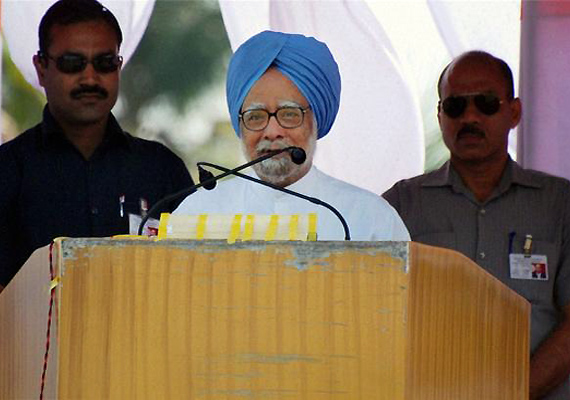 Panaji, Feb 29: Prime Minister Manmohan Singh today said the ruling Congress wants development of Goa but not at the cost of environment, which has emerged as a key issue in the coastal state going to the polls on March 3.  

In a brief election speech marred by technical glitch in the sound system which left the Congress embarrassed, Singh said environmental preservation was a major issue in Goa. The party wants development of the tourist state, but not at the cost of its environment, he said.

"In the new Coastal Regulation Zone notification, Goa's concerns have been addressed by the Central government." Basic amenities in the state would be strengthened under the Centre's Jawaharlal Nehru National Urban Renewal Mission (JNNURM), if Congress is voted back to power in Goa, he said, speaking at a public meeting at Sankhalim, about 40 km from here.

"The Congress government has implemented several welfare programmes, including a mediclaim scheme covering all Goans," he said, highlighting the pro-people measures initiated by the Congress-NCP ruling coalition here.

Maintaining that Congress has always worked for the betterment of the people, Singh assured whole-hearted support of the Centre to preserve Goa's rich heritage.

Earlier, a technical snag disrupted Singh's speech midway. Barely two minutes into his speech, he was not audible to 30,000-odd crowd as the sound system went off abruptly.

Unaware that the sound system has failed Singh continued his address for the next few minutes before some leaders on the stage pointed to the audio failure.

The sound system was restored after half an hour during which Singh sat patiently on the dais and in between chatted with NCP leader and Union minister Praful Patel, who was among those present on the stage.

Chief Minister Digambar Kamat, Goa Congress chief Subhash Shirodkar and GPCC Working President Francis Sardinha, among others, were also present on the dais.