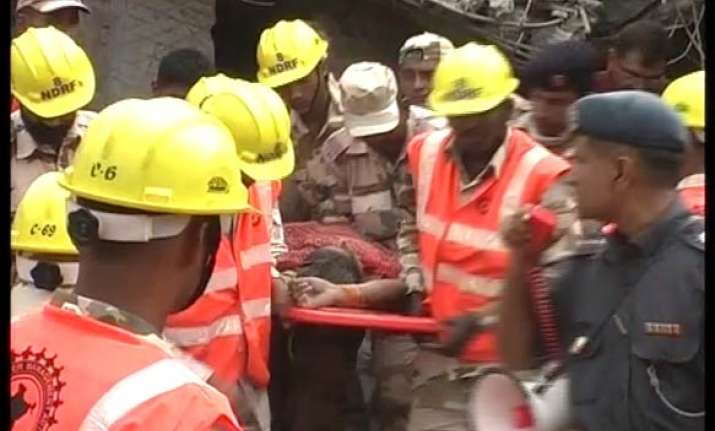 Ghaziabad, July 17 : Army and ITBP jawans along with police searched for possible survivors under the debris of a five-storey building on Sunday evening, more than 30 hours after its collapse left five workers dead, reports Times of India.

The condition of 16 workers  admitted to hospitals was said to be critical, police and officials said, adding that the death toll was expected to rise further.

Ghaziabad Disitrict Magistrate SB Lal said that of the five killed, only one had been identified -- Arvind Sahu from Madhya Pradesh.

The disaster occured on Saturday afternoon when the building under construction tumbled down in Shalimar Garden  Extension, trapping an unspecified number of workers and instantly killing three.
 
One account said that some 80 people were at the site when the tragedy took place.

Two bodies were recovered Saturday while a third was pulled out from under the debris Sunday afternoon, National Disaster Response Force (NDRF) officer Gopi Chand said. Two people succumbed to their injuries on Sunday.

Rescuers -- including residents, fire brigade, police personnel and soldiers -- worked frantically to rescue those still trapped under tonnes of concrete and steel.

Superintendent of Police City JK Sahi said soldiers were summoned from Meerut. The NDRF personnel and personnel from the Indian Air Force station at Hindon were also helping, he said.

Five cranes removed tonnes of concrete. Four people -- the building's contractor Kishan Singh and three employees of a construction firm -- have been arrested.

Sixteen workers were warded in hospitals in New Delhi  and Ghaziabad. "The entire building has fallen," said Vinod, a witness.

The Ghaziabad administration Sunday announced a compensation of Rs.1 lakh each for the kin of the deceased and Rs.25,000 for the injured.

The workers reportedly belonged to West Bengal, Jharkhand, Bihar and Chhattisgarh.

The building was being constructed on an 800 square metre plot. Three cars, parked in its vicinity, were also destroyed by falling bricks and slabs of concrete.