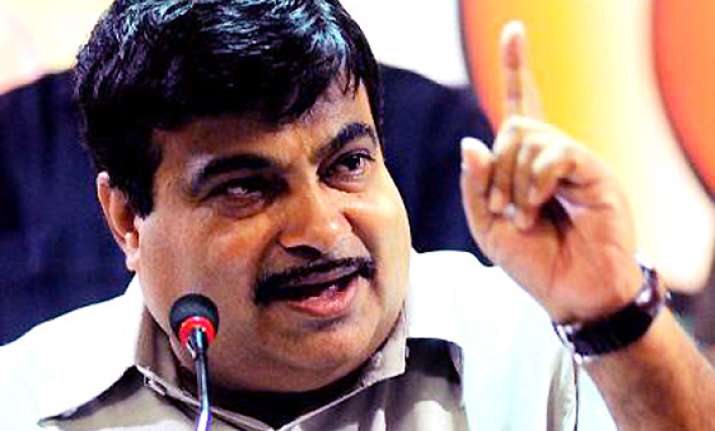 New Delhi, Apr 3:
Joining the campaign for municipal polls, BJP president Nitin Gadkari today launched a blistering attack on Delhi government accusing it of involvement in large scale corruption, and promised a clean civic administration if his party was voted back to power.
The BJP president released a dossier listing 35 alleged scams and cases of corruption involving Delhi Government and slammed it for ignoring findings of Prime Minister-appointed Shunglu Committee and Comptroller and Auditor General examining alleged irregularities in hosting of the CWG.
"The BJP does not need to say about the CWG irregularities. The Prime Minister-appointed Shunglu Committee and CAG have reported about them. The Shunglu clearly said tax payers' money was wasted due to wrong policies of Delhi government," Gadkari said.
Alleging large scale irregularities in hosting of the CWG, he claimed that clearances were given to files relating to the CWG by the PMO, the Finance Minister, the Sports Minister, the Expenditure Finance Committee and the Cabinet Sub Committee.
Pointing finger at Chief Minister Sheila Dikshit for the alleged irregularities in hosting of the event, he said the Congress leader should have resigned after submission of the Shunglu Committee report.
"Like the UPA government, the Sheila Dikshit government has also been involved in series of scams and wrongdoings," he said appealing the people of the city to vote for BJP in the civic polls to be held on April 15.
Gadkari also criticised Congress for not taking action against Delhi PWD Minister Raj Kumar Chauhan whose removal was recommended to President Pratibha Patil last year by city Lokayukta for his alleged involvement in protecting a private resort in a tax evasion case.
"Congress had demanded removal of the previous Karnataka Chief Minister following a Lokayukta report last year. BJP had removed him (B S Yeddyurappa) from the post. But did Congress take action against the Delhi Minister whose removal was recommended by Delhi Lokayukta," he asked.  Promising a clean municipal administration, Gadkari appealed to the people to vote for BJP in the ensuing municipal polls.
The dossier, prepared by BJP leader Kirit Somaiya, mentions about 35 alleged scams involving Delhi Government which include "CWG scam, power privatisation scam, unauthorised colonies scam, DTC bus procurement scam and water privatisation scam".