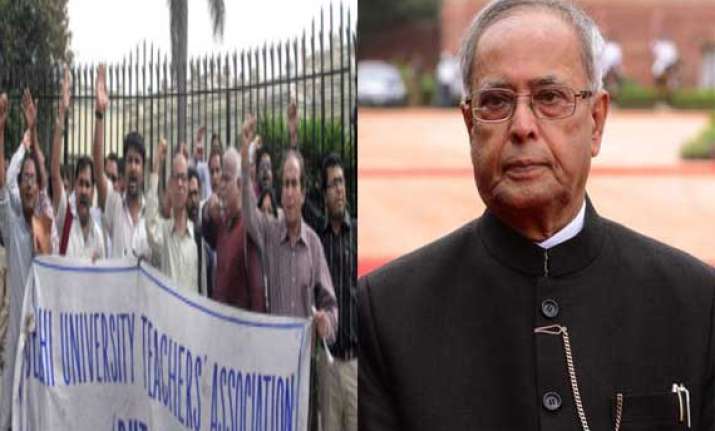 New Delhi: Seeking the President's intervention to break the impasse over controversial four-year undergraduate programme (FYUP) in Delhi University, DUTA today demanded removal of its Vice Chancellor Dinesh Singh and a probe into the "misgovernance" of the academic functioning.
Delhi University Teachers Association president Nandita Narain said that the modified FYUP proposed by some
individuals, most of whom are close to the vice-chancellor and whom Singh was using to further muddle up the admission process, was unacceptable.
"This action of the vice chancellor to prolong the uncertainties for students and parents, especially those who have come from different parts of the country, is deplorable," she said.
DUTA rejected the proposal as it lacks academic merit, she said, adding that no responsible university treats students as "guinea pigs".
"DUTA has written a letter to the President Pranab Mukherjee, who is also DU visitor, appealing to him to take
cognisance of the impasse, annul the FYUP ordinances, remove Dinesh Singh from office and institute an enquiry into the
misgovernance and vitiation of the process of academic functioning and decision making," she said.
"One batch of students has already been subjected to FYUP experiment designed with unforgivable haste and the attempt now is to force another batch into an even more hastily modified form of FYUP," she said.
The DUTA president added that this restructured FYUP is in violation of the UGC order issued for the purpose of
harmonising patterns across universities and for maintenance of standards.