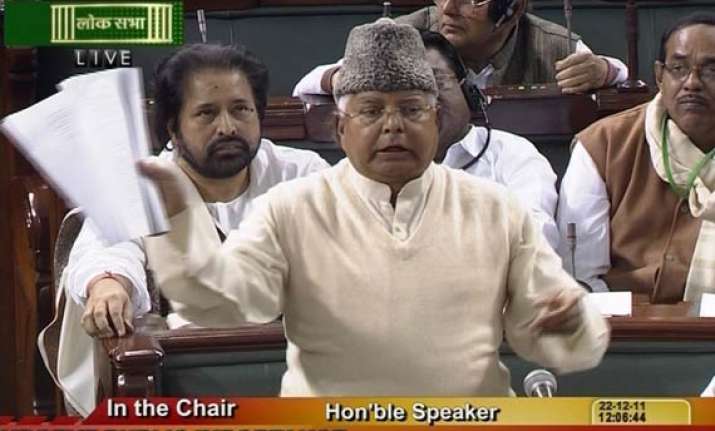 New Delhi, Dec 22 : The new Lokpal Bill was today at the centre of a fresh controversy before its introduction in the Lok Sabha, with RJD, SP, BSP and AIMIM members protesting exclusion of minorities from the anti-graft bench of the proposed ombudsman.

RJD chief Lalu Prasad raised the issue during Zero Hour alleging that minorities had been kept out "under pressure" from RSS-BJP.

"The Congress and RSS-BJP are hand in glove. That is why there has been a delay in circulating the Bill. We will not accept it. It is incomplete. Amend it and then introduce the Bill," Prasad said.

While reading out contents of the Bill which has been circulated among MPs, Prasad accused the government of being scared of the BJP.

Speaker Meira Kumar objected to his reading out from the Bill, pointing out that it was yet to be introduced.

As he was protesting against the government's move, Prasad was joined by members of SP, BSP and AIMIM in creating an uproar. Two SP members also moved into the Well but returned to their seats after the Speaker asked them to go back.

In the melee Trinamool Congress leader Sudip Bandopadhyay was seen talking to NCP chief and Agriculture Minister Sharad Pawar apparently on the legislation.

After Kumar's request for order failed, she adjourned the House till 2 PM.

The RJD leader said there was a "conspiracy" to keep Muslims out of the measure "on the pretext of printing (mistake). We verified it."

He was referring to a provision in the Bill which provides for 50 per cent quota for SCs, STs, OBCs and women. Initially, the revised bill had the mention of minorities but it was later reportedly deleted.