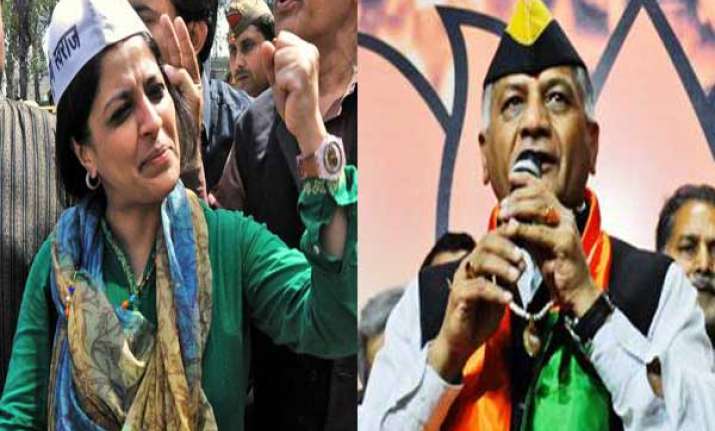 Ghaziabad: Accusing AAP rival Shazia Ilmi of making "irresponsible" statements on his age issue and that he had written an article lauding Arvind Kejriwal, BJP candidate V K Singh on Tuesday urged the Election Commission to take action against these "hit-and- run tactics".
In a statement released here, Singh also asked the Aam Aadmi Party leader to explain her reported comments that by giving ticket to a former Army Chief, BJP has created a situation that is akin to what is happening in Pakistan.
"Shazia Ilmi's latest statement questioning my personal integrity is most unfortunate; especially since the two 'examples' she gives are both erroneous. As quoted by news agencies, she claimed that I was not even aware of my date of birth and had also written a newspaper article in the past wherein I had praised Arvind Kejriwal," the former Army chief, who is contesting from Ghaziabad, said.
Speaking about age controversy, Singh said the issue was a creation of the UPA government which went out of its way to truncate his tenure as Army Chief. Asserting that he had no ambiguity about his age, Singh said that the controversy emerged because of his action against corruption.
The former army chief said that despite AAP's claims of fighting corruption, Ilmi was taking the UPA government line which was a blatant distortion of facts.
The AAP seems to have made a habit of making irresponsible statements with apparently little or no compulsion to stick with the truth, he said adding that these hit-and-run tactics need to be questioned by the Election Commission, Singh said.
He said that the AAP leader should also explain her contention that the BJP has created a situation akin to what is happening in Pakistan by fielding him.
"She needs to explain what exactly does she mean. Perhaps while she is at it, she can also explain why her party has in its publications and websites shown parts of Jammu and Kashmir as belonging to Pakistan," Singh said adding that senior AAP leaders have been openly calling for a plebiscite in J&K.
Singh said that in the past she had "egg on her face" when she wrongly quoted an NGO as having certified that corruption had gone down in the 49 days of the AAP's Delhi government.
"She now reverts to the same tactics and claims that I have praised Arvind Kejriwal in a published article. I think the Election Commission should call her bluff and ask her to produce the said article or interview or whatever that has me giving the AAP or its leader a certificate of merit," Singh said.