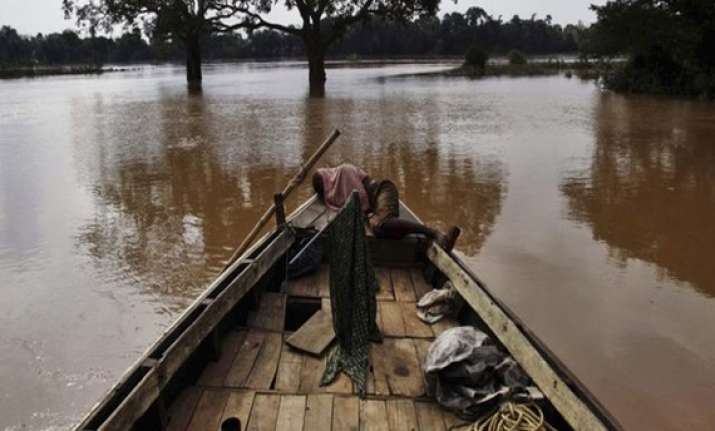 Bhubaneswar: Thousands of people have been stranded for the third consecutive day Wednesday in Odisha after massive floods triggered by Cyclone Phailin swamped their homes, officials and witnesses said.
People took shelter on roof-tops, embankments and higher places, as officials and volunteers made efforts to reach them food and other relief materials.
The flood water has receded in many areas, but the situation continues to be grim in the worst-hit Balasore district, officials said.
"Things are totally under control. No new area has flooded over. Some 96,000 flood affected people (in Balasore district) are getting relief," Arabinda Kumar Padhee, revenue divisional commissioner (central), who is supervising relief and rescue operations, told IANS.
"The flood has affected about seven lakh people in the district. The number of those stranded may be about 12,000," he said.
Heavy rain brought on by Cyclone Phailin that hit the state coast Saturday night triggered floods in Balasore, Mayurbhanj, Jajpur, Keonjhar and Bhadrak districts. More than a million people were affected when water from major rivers and their tributaries submerged low-lying areas and entered habitations, officials said.
The army, the National Disaster Response Force, the Odisha Disaster Response Force and state police were continuing relief operations in flooded areas.
The government claimed flood water was receding, and said food and relief was being provided to the needy. Witnesses, however, disputed some of the government's claims.
"I have taken shelter here with my family. Except some dry flattened rice, officials have given us nothing," said 45-year-old Sukanti Tudu, a woman who has taken shelter on a national highway near Balasore along with hundreds of others.
"Some private individuals gave us food. That is what we survive on," she told IANS.
Tudu, along with eight others in her family, including children, has been living on the highway for three days. She said it was days since the family had a full meal.