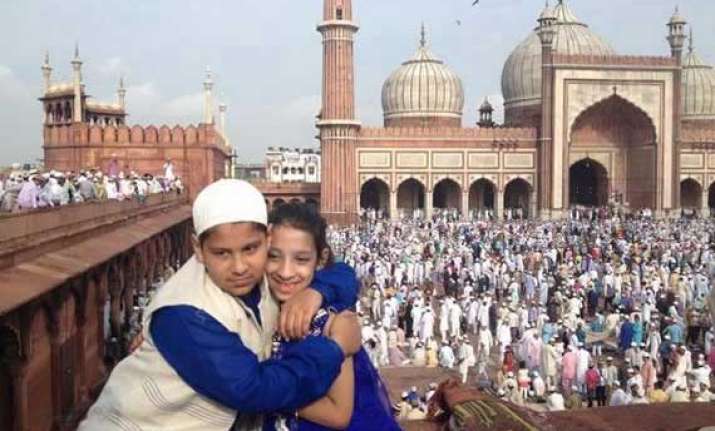 New Delhi: Clad in festivity finery, white kurta-pyjama and a skull cap, thousands of Muslim devotees in New Delhi thronged to the historic Jama Masjid and other Eidgahs including Fatehpuri Masjid and Hazrat Nizamuddin to offer Namaz on the auspicious occasion of Eid-ul-Fitr on Tuesday.
After offering prayers, they hugged and greeted each other with the traditional greeting of 'Eid Mubarak'.
Eid-ul-Fitr is celebrated to mark the end of Ramzan, the ninth month of the Islamic lunar calendar and the holy month of fasting. The religious day is a single day during which Muslims are not permitted to fast. This is a day when Muslims around the world show a common goal of unity.
In the evening, people exchange gifts and enjoy special dishes, particularly 'sewayian' made of vermicelli and different varieties of biryani.
On Monday evening, despite significant rise in prices of all commodities, thousands of people were seen purchasing items for their loved ones in the walled city.
Meanwhile, the Delhi Police has made elaborate security arrangements including diverting traffic at various places.
Social networking sites were also abuzz with activity since Tuesday morning. Political leaders and celebrities took to Twitter to extend their greeting on this occasion.
Omar Abdullah, Chief Minister of Jammu and Kashmir:
Eid Mubarak to all of you. May Allah shower his choicest blessings on all of us.
Rajnath Singh, Union Minister:
Greetings to all on the occasion of Eid. I wish for happiness, peace and prosperity in the country on this.
Sushma Swaraj, Union Minister:
Eid Mubarak.
Anandiben Patel, Chief Minister of Gujarat:
Wishing you all Eid Mubarak.
Smriti Irani, Union Minister:
Eid Mubarak. May this day bring joy and peace to all.
Akhilesh Yadav, Chief Minister of Uttar Pradesh:
Warmth and Happiness. Wishing you EID MUBARAK.
Digvijay Singh, Rajya Sabha MP and Congress leader:
Eid Mubarak to all. May this Year be the Year of Communal Harmony. May God drill sense in those who incite Communal Hatred and Violence.
Sushil Kumar Modi, BJP leader:
Eid Mubarak.Ramzan during which Muslims all over world keep fasting for 30 days will come to an end.
Shahnawaz Hussain, BJP leader:
Wishing you all a very Happy Eid-Ul-Fitr!! May this Eid bring to you happiness, success & prosperity!
Sri Sri Ravi Shankar, spiritual guru:
Eid Mubarak! May this celebration bring people of all sects & religions closer & unite them into a One World Family!
Kiran Bedi, former IPS officer and social activist:
Eid Mubarak to all. May our country move towards greater harmony and prosperity for all.
Arvind Kejriwal, former CM of Delhi:
Eid mubarak
Shah Rukh Khan, actor:
What a beautiful rain kissed day....Eid Mubarak. May Allah grant us all with peace & a modicum of happiness. Bas itna sa khwab hai....
Madhuri Dixit, actor:
Eid Mubarak to all! May there be success, happiness, love and peace for everyone!