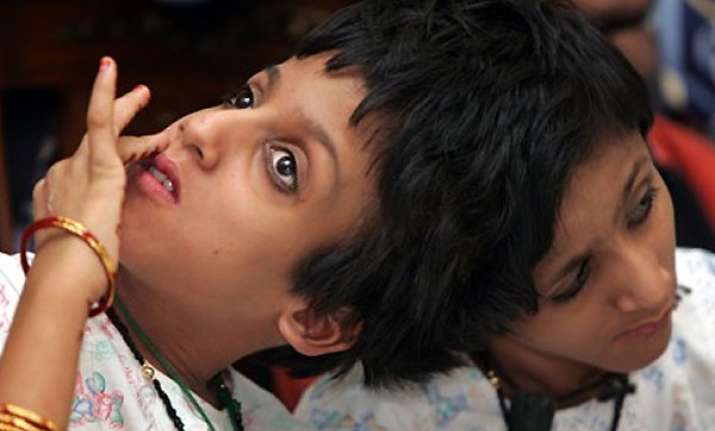 Patna, Jun 22 : Mohammad Shakeel, the father of the 15-year-old conjoined twin daughters, Saba and Farah Shakeel, has asked the Indian government to allow mercy killing for his daughters who are presently enduring blinding headaches due to continous deterioration in their health, The Telegraph, London reported.

The twins  are living in increasing agony and the father  has pleaded for help – or for them to be allowed to die.


Saba and Farah Shakeel are joined at the skull and have been suffering  terrible headaches, joint pain and slurred speech as they grow older.

The girls have received specialist help in the past, thanks to the intervention of the Crown Prince of Abu Dhabi, but their father, Mohammed, who works on a tea stall in Patna, cannot afford any more treatment.

His wage of just  Rs 4,000 a month is used up supporting his family of eight. Shakeel describes his daughters' condition as so miserable that the Indian government should allow doctors to carry out a mercy killing.


Five years ago Sheikh Mohammed bin Zayed paid for the girls to visit some of the foremost conjoined twin specialists, including American Benjamin Carson, to investigate ways of separating them.

At that time the girls were in much better spirits and health. They could only move in a crab-like fashion, but enjoyed playing board games and watching Bollywood films.

Carson's team discovered that the girls share a crucial blood vessel in the brain and have only two kidneys, both in Farah's body.


Shakeel was told by Apollo Hospital doctors that the girls would require up to six operations to separate them, each carrying a one in five chance that one of them would not survive.

He decided not to take the risk, despite the Crown Prince's offer to pay.

Five years later, the girls' condition is so much worse that Shakeel has come to the heart-breaking conclusion that their suffering should come to an end, unless someone can fund treatment.

The dependency on Farah's kidneys is causing them to suffer weight loss and high blood pressure.

He told The Daily Telegraph: 'The girls want to live and enjoy life as others do but when they are in pain, they cry and ask for help.


'All we want is either the government should come and help us treat them or allow them to die, because they are in a miserable condition.'

The twins' elder brother, Tamana Ahmad Malik, said the pair were in excruciating pain all the time they are awake, which is at least 15 hours a day.

'In the last few months, they've suffered continuous headache and body pain. They have difficulty in speaking and their limbs have become twisted,' he said