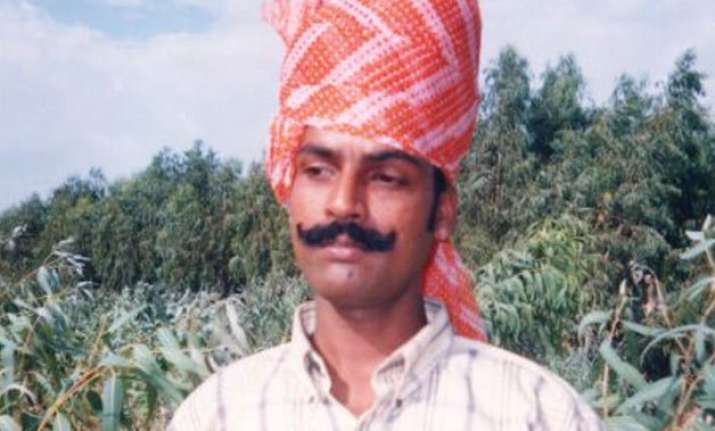 New Delhi: An AAP rally attended by thousands against the Land Ordinance on Wednesday turned tragic when Gajendra Singh, a farmer from Rajasthan, hanged himself from a tree in the heart of the capital, shocking India and sparking an ugly political blame game.
41-year-old Gajendra Singh, a resident of Dausa district and father of three, took his life by hanging himself from a tree on Wednesday, while Arvind Kejriwal was addressing a farmers rally against Land bill.
The eldest of three brothers, Gajendra studied up to class 12. He married early. His eldest child is a daughter studying in class 12; his two other boys are aged 7 and 10 – whon came to know that their father is dead quite later.
In 2010, Gajendra, a well-built man with a flourishing beard and an ornate turban, won Mr. Desert title, a Rajasthani cultural pageant.
ALSO READ: 'Mujhe TV par dekho': Gajendra Singh told his sister shortly before committing suicide
As per reports, Gajendra belongs to a well established famliy and had no such reasons to commit suicide.
Apart from this Singh has a good family background.
Situated on the edge of this Rajput-dominated village, Gajendra's single-storey, pucca house is fairly large. In front of it sprawled the family farmstead.
On one side of the farm, is a gooseberry orchard, on the other a plantation of teak. In between, is a patch of wheat field that completed a picture of a well-to-do farming household?
ALSO READ: Farmer's death: AAP's women wing describes Arvind Kejriwal 'hatyara'
Family members and friends remembered the 41-year-old, father-of-three as politically ambitious, having unsuccessfully tried twice – in 2008 and 2013 -- to fight the assembly elections as a Samajwadi Party candidate. After that, he wanted to join the Aam Aadmi Party (AAP).
After his failed forays into politics, Gajendra tried his hand at making a living out of tying colourful, Rajasthani turbans on tourists at hotels. Gajendra was expert in tying turbans and has tied turbans to personalities like Atal Bihari Vajpayee to former American President Bil Clinton.
According to government official said he along with his two brothers and father owned 17 bighas of land, he himself owned eight bighas. Gajendra lost 24 per cent wheat crop and 20 per cent of gram crop in the untimely rain and hailstorm. The family could not get any compensation as the minimum damage has to be atleast 33 per cent to get government relief, according to the new rules.
Was it actually a suicide?
The biggest question that India is debating is whether it was a case of suicide, accidental death or planned political stunt.
It is a matter of police investigations but the information available says the 41 year-old farmer as a colourful and emotional man who had no big reasons to commit suicide.
The dramatic way this man climbed the tree and hanged himself makes the entire episode mysterious. Some e people are blaming a certain political party saying that the incident could be pre-planned which turned into a disastrous mishap.
As usual, for few some time, Gajendra's death will be most talked about thing. His love will be compared to that of 'Naththa' of 'Peepli Live', but will his death create any difference to present condition of farmers in our society?
The alleged suicide note by Gajendra nowhere reflects that he had come  for committing suicide.
This incident again proves that a political greed wins over a human soul.