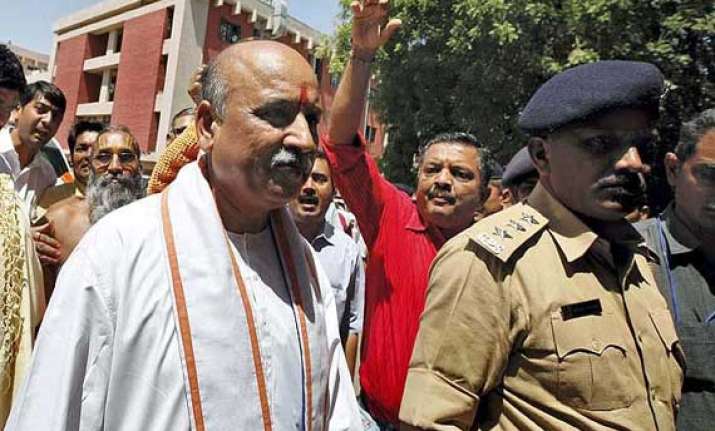 New Delhi: As per media reports, Togadia delivered a provocative speech in Bhavnagar in Gujarat in which he gave the Muslim businessmen 48 hours to vacate their houses, failing which he asked his group of followers to take forcible possession of their properties and fight a legal battle later which will go on for years.
Togadia said "This is being done by Muslims in villages and across India. Their strategy is to buy one house at a good price and then buy Hindu properties at throw-away prices...There are two ways to stop this...Govt enforces Disturbed Areas Act. You put pressure on the government to enforce the Disturbed Areas Act the way we have in cities like Ahmedabad."
The Disturbed Areas Act makes it tough to sell property to a member of the minority community in a neighbourhood.
Togadia was also quoted as saying that "...For protecting the Hindus, it is okay to put pressure on anyone. I have done this before and kept the possession of the house with me for a long time using the Bajrang Dal poster. The Muslim fellow lost the house and his money and we should have it in us to take the law in our hands in an area we are in majority".
The report claimed that the VHP leader also threatened them with violence and asked his followers to "go with stones, tyres and tomatoes" and that there was nothing to fear.
"Coming as it does on the heels of the BJP candidate from Navada Lok Sabha constituency in Bihar, Giriraj Singh's statement that those who oppose Modi will be sent to Pakistan, it shows that the BJP and its associated organisations like the VHP are trying to inflame communal feelings and communalise the situation in the country for votes," the statement added.