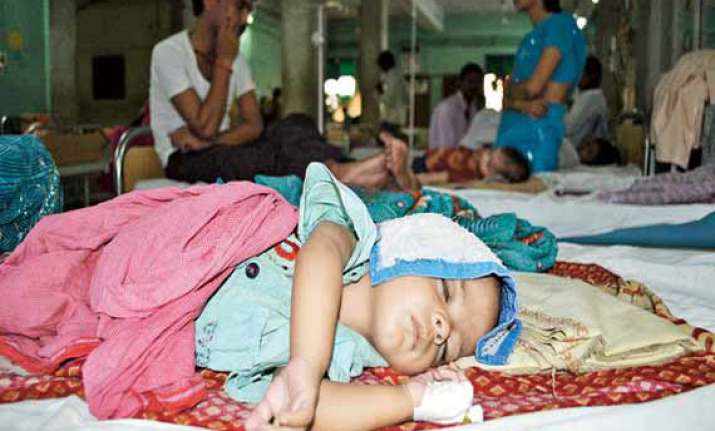 Siliguri/Guwahati: The death toll from Encephalitis outbreak in north Bengal has climbed to 102 while the disease has spread its tentacles to Assam as well taking 43 lives there.
"Around 102 people have died so far since January one," West Bengal Director of Medical Education (DME) Dr Susanta Banerjee told PTI here.
The DME said that it was a case of mixed infection with Japanese Encephalitis being responsible for around 24 per cent of infection.
He, however, sounded hopeful that the number of deaths and affected people would come down gradually.  West Bengal Health Services director Biswaranjan Satpathy said that the situation was under control.  He said that five deaths had been reported since last Sunday.
Dr Amarendranath Sarkar, the superintendent of the North Bengal Medical College and Hospital, in Siliguri where the affected have been admitted said that most of them have been coming from near Jalpaiguri and Cooch Behar districts and areas surrounding Siliguri.
In Assam, Japanese Encephalitis has claimed 43 lives and affected 311 people, according to Health Department data.  Lower Assam districts of Barpeta, Kamrup (Rural), Darrang and Nalbari districts have been worst affected, the data revealed.
Of this, Barpeta reported eight deaths and 54 positive cases while Kamrup (Rural) reported four deaths and 34 cases of Japanese Encephalitis during the last week, according to health department data.
Darrang, Sivasagar and Nalbari have reported six deaths each with 20 confirmed positive cases in Nalbari alone while two deaths were reported from the Kokrajhar district.  Meghalaya today sounded an alert in four districts bordering Assam.
Kamrup (Metro) district has recorded 31 positive cases but no deaths so far.
Chief Minister Tarun Gogoi had directed state Chief Secretary Jitesh Khosla to ensure that health department gears up the vaccination drive and that there is regular flow of medicine to hospitals and health centres.  Even as there was no confirmed case till date in Meghalaya, at least six suspected cases of encephalitis have been detected in Ri-Bhoi district, they said.  The four Meghalaya districts covered by the alert are Ri-Bhoi, parts of West Khasi Hills, North Garo Hills and West Garo Hills.
"Health services officials in districts close to Assam have been asked to be cautious in case patients show any symptom similar to encephalitis," state National Vector Borne Disease Control Programme Officer Dr B Mawlong told PTI.
He said thast six suspected cases had been detected yesterday in Ri-Bhoi district and the government was waiting for test kits from a Pune-based laboratory.