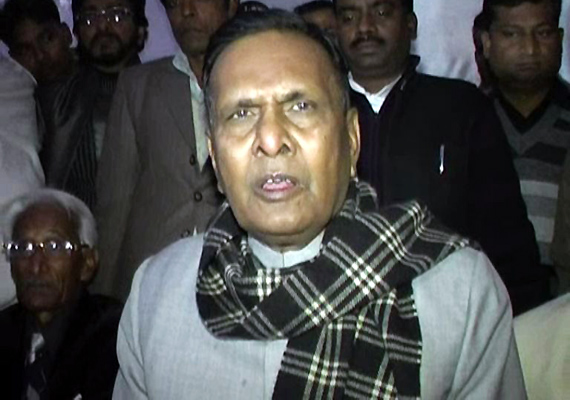 New Delhi, Feb 21: Steel Minister Beni Prasad Verma was today granted personal hearing by the Election Commission to explain his minorities sub-quota remarks for which the poll body slapped a notice and he is likely to appear on Friday.

The Commission, which met here this evening, decided to grant personal hearing to the minister following his request in this regard.

"The Minister had sought a personal hearing before the Election Commission on the matter and the poll body granted him so. He will explain his position either in person or through his lawyer on February 24 now," a top EC official told PTI.

During his hearing on Friday, Beni is expected to explain to the Commission on why action should not be initiated against him for violation of model code of conduct, sources said, adding that he had made a request to the EC in this regard to explain his position with regard to the minority sub-quota remarks.

Verma, in his reply to the Commission yesterday, expressed regret over his sub-quota remarks but has contended that he did not violate the model code of conduct and that his remarks were made as a Congress leader in line with the party's manifesto and not as a minister.

The Election Commission had on Saturday issued notice to Verma over his remarks on sub-quota for minorities, holding that prima facie it was a violation of the Model Code of Conduct and had sought his reply by Monday evening.

While addressing a poll rally on Wednesday night in Farukkhabad in the presence of Congress general secretary Digvijay Singh and Union Law Minister Salman Khurshid, Beni had said, "Reservation for Muslims will be increased and if the EC wants, it can now issue a notice to me."

Verma is the second Union minister after Law Minister Salman Khurshid to get an EC notice for poll code violation over the sub-quota remarks.

Sources in the EC said that Beni is toeing the line taken by Law and Minority Affairs Minister Salman Khurshid, who was also issued a notice by the poll body over the minorities sub-quota remarks.

Sources said the Election Commission had taken serious note of his comments, particularly for daring the poll body to take action against him.

The Commission, which examined the video recordings of Verma's speech, said it "is prima facie satisfied" that the Steel Minister, "by making the aforesaid statements, has violated the aforesaid provisions of the Model Code of Conduct".

The EC notice further states, "It is evident from the above statements of Shri Beni Prasad Verma that he was well aware that by making such utterances, he was violating the model code of conduct and yet he deliberately and wilfully did the same."

The Commission asked Verma to explain his position by 5 PM on February 20, as to why action should not be taken against him for violating the provisions of Model Code of Conduct.