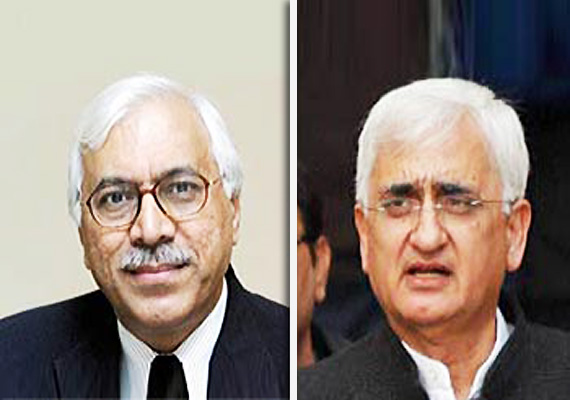 New Delhi, Feb 11: Acting swiftly on the complaint by the Election Commission against Salman Khurshid, President Pratibha Patil tonight sent it the office of Prime Minister Manmohan Singh for "appropriate action".  

The Commission had in an unprecedented step tonight sought the "immediate and decisive" intervention of the President accusing the Law Minister of "improper and unlawful" defiance of its orders under which he was censured for promising sub-quota for minorities.

"The President has taken note of the Election Commission's letter and forwarded it to the PMO for appropriate action," Rashtrapati Bhavan spokesperson said.

Taking strong objection to Salman Khurshid's comments after his censure on his minority quota remarks, the Election Commission tonight wrote to President Pratibha Patil against the "defiant and aggressive" Law Minister and sought her immediate decisive intervention.

The EC said the defiance by a Union Minister of the Constitutional body was "unprecedented" and his "improper and unlawful action" has put a strain on the delicate balance of functions between Constitutional authorities.

The strongly-worded two-page letter was written to the President after an emergency meeting of the full Commission in the wake of Khurshid's statement earlier in the day that he would continue to pursue the line on nine percent sub-quota for minorities 'even if they hang me'.

The EC had earlier censured him for the same statement made on January 8 while campaigning in Uttar Pradesh elections, holding that it was violative of the Election Model Code of Conduct.

"The Commission is shocked that instead of being remorseful about the violation of the Model Code, that carries the consensus of all political parties and the sanction of the Supreme Court, the Minister has chosen to be defiant and aggressive. This is unprecedented," the EC letter said.

Meanwhile, in Farrukhabad on Friday night, Salman Khurshid has said he would ensure the rights of backward Muslims even if the Election Commission "hangs" him.

Addressing an election rally in Khatakpur locality, the law minister said that EC had censured him, but even if the "Commission hangs him or does anything else, he would ensure that people of Pasmanda (backward) community get their rights".

"Can't I even say that Pasmanda Muslims would get their due?" he said, adding that Congress was set to hoist the tricolour in the state assembly after 22 years.

The Commission had censured Khurshid for his remarks on sub-quota for minorities, finding them to be a violation of the model code of conduct for elections.

Khurshid, while campaigning for his wife Louise, a Congress candidate from Farrukhabad Assembly constituency in Uttar Pradesh, had promised the electorate last month that the party would increase the sub-quota for minorities to nine per cent, out of the 27% Other Backward Classes (OBC) reservation.

The EC order had come on BJP's complaint about Khurshid's remarks, asking the Commission to take action against him for violation of model code of conduct.