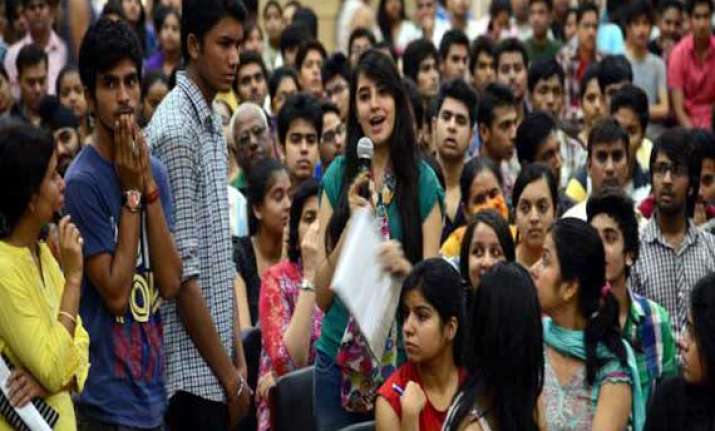 New Delhi : Delhi University students and youths from nine urban settlements in the capital Tuesday released a charter of demands for India's policy makers, demanding safety, security for women, framing rights for the girl child and the right to education.
The charter called the "Platform for Action: Of, for and by young people" was the result of three month field work, interacting with victims and survivors of violence, sensitising police personnel and creating awareness on women's laws and rights among the urban slums.
"Over 200 students engaged with legal experts, women activists, police, auto drivers and people living in settlements. What came out was a sense of shared apprehension, pain and resolve to fight back," said Bijayalaxmi Nanda, associate professor at Miranda House.
Spearheaded by Miranda House, students from Hindu College, Sri Ram College of Commerce, Delhi School of Social Work, Delhi School of Economics and many others were part of the process.
With demands addressed to various ministries, the students stressed that there were enough of protests, and now the youth and government needs to work hand in hand to bring change and create a secured environment.
"In our country, rape has become the threshold to sexual assault. But in reality, groping, touching and staring have equal effect on the psyche. So now is the time to walk towards zero tolerance on sexual harassment. Legal awareness alone will not help empower women," said Bedadyuti Jha, student and member of the Women Development Cell of Miranda House.
The youth felt women empowerment would occur only after sensitising teachers, providing freedom to women in matters of marriage, promoting English education in government schools and making women helpline services functional.
"One evening, a boy who was drunk caught my hand. Somehow I escaped and reached home and told my mother who called up the police. Police did catch him and beat him up but he was later released. The boy was beaten but then the questions police asked me frightens me more," said Vaishnavi, an 18-year-old resident of NTPC Subhash Camp.
Annie Namala of the Centre for Social Equity and Inclusion said education was the only solution to the problem.
Activists from the Centre for Advocacy and Research and Plan India, who were crucial to the release of the demand charter, stressed that protection of women needs to become a "political agenda".
"Several policies, programmes have failed to provide security arrangements. Protection has to become a political agenda now as youth are anxious and they want to leave an imprint," said Centre for Advocacy and Research executive director Akhila Sivadas.