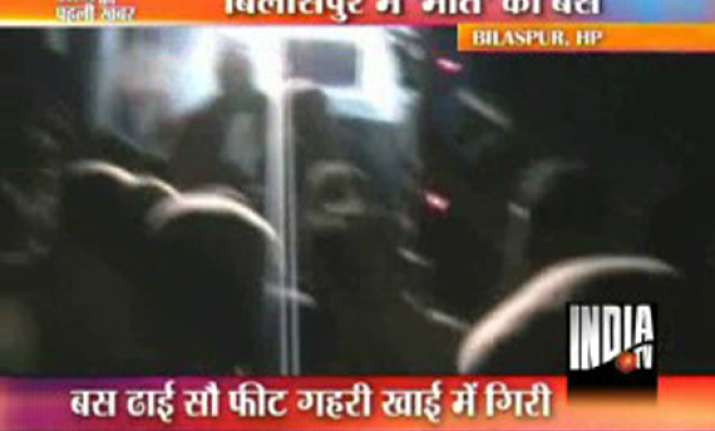 Shimla, Oct 25: At least 25 passengers, including five women, were killed and  27 others were injured when an overloaded Himachal Road Transport Corporation (HRTC) bus fell into a  gorge near Bilaspur on Monday evening.

Police said the toll was likely to go up. The accident occurred at 5.30 pm, when a  bus that was headed for Bandla village developed a snag  nearly 4 km from Bilaspur town.
 
In a hurry to reach home, stranded passengers, most of them Diwali shoppers, stopped another bus going to Bandla village and began boarding it.

Since the bus was already overloaded, some people climbed atop. The bus, which was parked on the roadside, began rolling backwards and fell into the gorge. The fortunate few who were still standing on the roadside said they could hear nothing except screams.

Most victims were from Bandla, Gamna and Sera villages.

Bilaspur deputy commissioner Ritesh Chauhan and SP Santosh Patial rushed to the spot to supervise the rescue work that was hampered as darkness descended.

Ambulances from Bilaspur and nearby places rushed the injured to the civil hospital. Seven victims were referred to Indira Gandhi Medical College (IGMC) in Shimla in a serious condition.

The HRTC authorities said that 40 passengers were travelling in the bus but eyewitnesses said the bus was already overloaded when more people tried climbing it.