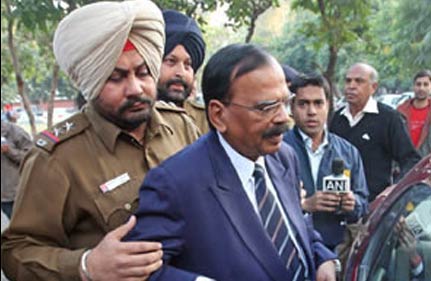 Ambala, Nov 10 (PTI) In a partial reprieve to disgraced ex-Haryana police chief S P S Rathore, the CBI today filed closure reports in two of the three fresh cases registered against him by the family of Ruchika Girhotra, molested by him in 1990.
The three cases involve doctoring of post-mortem report, filed by Ruchika's father S C Girhotra, and a torture case filed by her brother Ashu, who has also accused 68-year-old Rathore in a third case of abetment to suicide of the girl.
While the CBI filed the closure reports in two cases before a special magistrate here, the probe in the abetment to suicide case has been stayed by the Punjab and Haryana High Court.
The fresh cases were registered in December last year after a public outcry when Rathore was sentenced to six months imprisonment for molesting 14-year-old Ruchika. However, the CBI challenged the verdict in a sessions court in Chandigarh which enhanced the sentence to 18 months jail term for him. Rathore is at present in prison.
The CBI rebutted eight charges made by Ruchika's father and four allegations made by Ashu who claimed that he was taken home in a semi-nude condition and that false cases were slapped on him about auto-theft at behest of Rathore.
The court admitted the two closure reports and issued notices summoning the father-son due on November 25.
In the first case, the father alleged in his complaint to the police that after his daughter consumed poison on December 28, 1993, three years after she was molested, he was forced by Rathore, who was the then Inspector General (Telecom), to take her to PGI hospital at Chandigarh and at the time of post-mortem, the magistrate was not called by the cops.
 In its report, the CBI claimed that the allegations could not be substantiated "as per the documentary evidence and oral testimony of witnesses".
"The probe disclosed that Ruchika had consumed poison in the morning of December 28, 1993 at her home in Panchkula and that she was taken to PGI hospital by Girhotra and his second wife Veena of their own," the closure report said.
The CBI claimed that the victim was first taken to a nursing home at Sector-8 in Panchkula by her father and the stepmother from where she was referred to PGI as the general hospital in the area was undergoing construction.