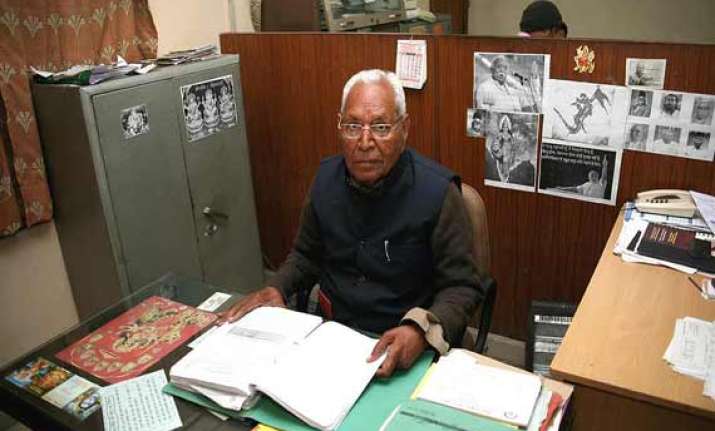 New Delhi: After getting American scholar Wendy Doniger's book on Hinduism pulped, retired 85-year-old teacher and educationist Dinanath Batra, an admirer of Prime Minister Narendra Modi, has a new mission: preparing a "blueprint" for "Indianising" the country's education system and liberating it from the clutches of western education.
Emboldened by the Gujarat government's move to make his books supplementary reading in state-run schools, in one of which he has mentioned that modernisation of education should not mean westernisation but Indianisation and has asked students to take pride in their religion and its symbols, Batra said some "like-minded" academicians are already working on the blueprint.
"We have set up a commission Bharatiya Shiksha Niti Aayog which is preparing the blueprint for the Indianisation of the education system," Batra, who has been in news lately, told IANS in an interview.
"It will take us three years to complete it and we will circulate it among people. Till now we have eight academicians in the commission and more will be included," said Batra, who has courted controversy with his professed aim to "saffronise" the Indian education system, an initiative that has been praised by the RSS.
His books eulogize Indian culture and at the same time are dismissive of western culture.
He had earlier hit the headlines in March when Doniger's academically acclaimed book on Hinduism was withdrawn after Batra filed a civil suit against it.
Talking to IANS at the office of Shiksha Sanskriti Utthan Nyas in West Delhi's Naraina Vihar, a non-government organisation in the education sector, Batra said: "Whatever is there in the NCERT book is not good. If the students read these books, they will go astray."
"Filthy language, abuses, and most depressingly unconstitutional words like Chamar and Bhangi have been used in the Hindi books of the NCERT (National Council of Educational Research and Training). Is it not distortion of Hindi language," Batra asked.
"English poems (in Devanagri script) and Persian couplets in Hindi are there in the school books. It is a distortion of Hindi language," said the mild-mannered octogenarian who seems oblivious of the debate he has generated.
Asked why India has been described as Akhand Bharat (United India) comprising Bhutan, Pakistan and Myanmar, among others, in one of his books, he flatly denied this and said: "This is not part of my book."