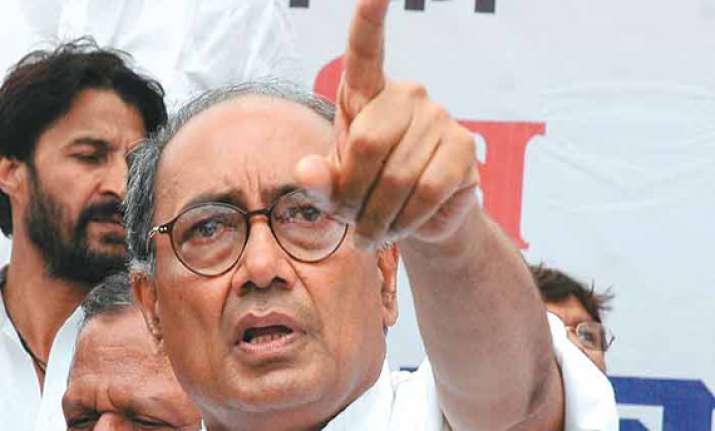 New Delhi, March 4 : Congress general secretary Digvijay Singh on Saturday rubbished the exit polls  while the ruling BSP in UP described them to be a "waste of time".
 
"These polls are not correct. Wait for the real results. We are sure to get 125-plus seats," AICC general secretary in-charge of UP Digvijay Singh said.
 
BSP, which was shown to be on the verge of losing power, dismissed the exit polls  as a "waste of time".
 
However, SP appeared satisfied with the overwhelming sentiment in its favour in UP.
 
The party's chief campaigner and heir apparent Akhilesh Yadav said the post-poll surveys were in sync with the sentiment he saw on the ground.
 
"SP will get majority.People have voted in full strength to oust BSP and our workers were doubly geared up on account of their harassment over five years.Mayawati's corruption andmal-governance have been her undoing," he said.

He added the vote for Samajwadis would be a positive vote.
 
 "During my kranti rath, I saw that our manifesto promise of laptops that could run in Hindi, English and Urdu really connected with the youth. Then, our promise of unemployment allowance has fired the imagination of the "youth". It will be a positive vote for us and our programme," he said.

BJP appeared satisfied with the exit findings that gave it a good chance of return to power in Punjab, Goa and Uttarakhand, while also predicting a bounce back in UP, where it was decimated in the last two polls.

However, the BJP camp maintained the posture that exit polls were underestimating its performance in UP.
 
 "We expect to do well. As far as the exit polls are concerned, difference TV channels are showing different numbers but we are confident of good performance. So let's wait for the results on March 6," said Ravi Shankar Prasad, BJP spokesman.

The exit polls claimed the Congress  could perform dismally in UP, lose power in Goa and may face resistance in  Uttaakhand and Punjab despite having the advantage as opposition party in these two states.

While it got favourable figures on UP in two big exit polls, it seems riled by the claim that it was poised to finish below BJP as last of the four big parties.