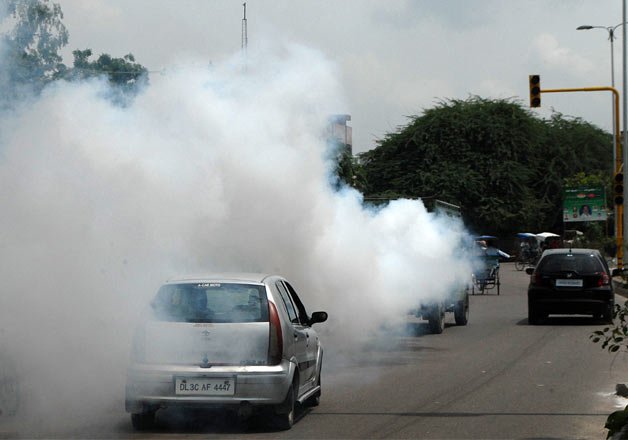 Mumbai: A recent analysis by the System for Air Quality Weather Forecasting and Research (SAFAR) has concluded that the Air Quality Index (AQI) of the business capital of India, Mumbai, was much worse than that of Delhi, despite a fall in pollution levels in the city on Monday.
As per the reports by SAFAR, the AQI for Mumbai in the morning was calculated at 308 which marginally came down to 304 by the evening whereas Delhi registered the AQI of 208 in the morning and improved to 169 by sunset.
The reason behind the improved air quality of the national capital, according to the SAFAR experts, is a change in the wind patterns and it could be temporary.
For Mumbai, the only positive is the fact that its AQI on Monday was better than Sunday's 333, Saturday's 318 and Friday's 341.
Hopeful of reduction in the pollution levels in Mumbai after (put details of fire/smoke engulfing Mumbai), Gufran Beig, project director, SAFAR, had said, "Conditions seem to be improving as the fire has been controlled, but weather conditions like winter temperatures and high moisture levels have still kept the pollution in the very poor category. The winds are now picking speed, which will help reduce pollution levels in the coming days."
"The winds are not very calm now, but the humidity levels are very high. Due to this, the pollutant particles are still in the air and the particulate matter concentration in areas like Chembur, Mazgaon and BKC is still very high. The sea breeze helps the city to clean up naturally, but it will take a couple of days before things are back to normal," said K S Hosalikar, deputy director general of the Regional Meteorological Center in Mumbai.
Residents of Mumbai have been complaining about the increasing population in their respective areas. R Badrinath, a Chembur resident said, "When I went out early in the morning, the situation was much better as compared to the past few days but between 7.30 am and 9 am, a blanket of smoke covered the area once again."
Another Chembur resident, Jhanvi Kulkarni said, "I have been coughing for the past four days. My mom's eyes have irritation. There is smoke everywhere. I decided to go for a run but I couldn't run for more than 10 minutes. There is smoke on our clothes, blankets and almost everywhere."