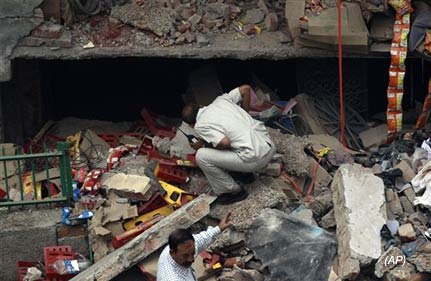 New Delhi, Nov 17: The Delhi government on Wednesday announced a judicial probe into the building collapse in Laxmi Nagar which has taken a toll of 67 lives so far.
 
Former High Court judge Justice Lokeshwar Prasad will head the probe, chief minister Sheilas Dikshit said.
 
The terms & reference of the enquiry are as under:
1- To determine the immediate and proximate causes for the collapse of the building.
2- To determine the circumstances and sequence of events leading to the collapse of the building.
3- To determine the number of victims, both dead and injured.
4- To determine the administrative, procedural, and staturoy lapses, if any, leading to the collapse of the building.
5- To fix responsibility, both individual and institutional, for the collapse of the building
6- To assess the response of various relief and rehabilitation agencies to the incident of collapse in terms of the responses
being timely, effective, and efficient. Also to indicate the measures required to improve the responses.
7-  To make recommendations regarding the preventive and penal  measures required to prevent the recurrence of such incidents in the future.
The judicial commission has been asked to submit its report within 90 days.