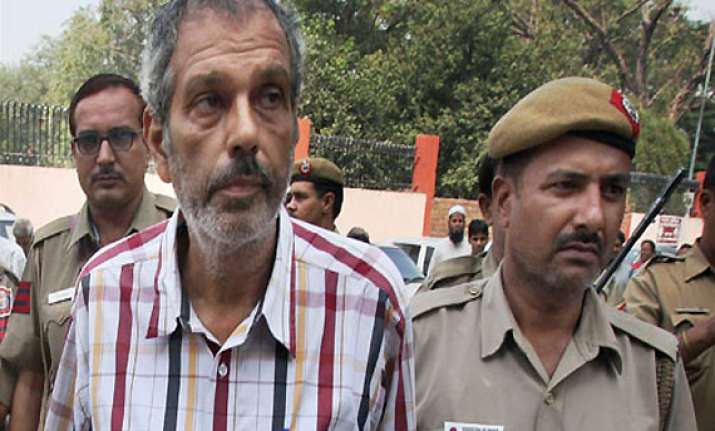 New Delhi, Mar 26: A Delhi court is likely to frame on March 28 the charges against top Naxal leader Kobad Ghandy, accused of trying to set up base for his banned outfit CPI (Maoist) here.
Accused of trying to build a Maoist base in the national capital, 63-year-old Ghandy has been booked for various charges under Unlawful Activities (Prevention) Act besides those of cheating and impersonation under the IPC.
Additional Sessions Judge Pawan Kumar Jain is likely to frame charges against him on Wednesday. The Maoist leader earlier had opposed filing of a supplementary charge sheet against him.
Gandhy's counsel had argued that the Special cell of Delhi Police has filed the supplementary charge sheet despite there being no fresh material against him.
The Police had last week filed a supplementary charge sheet, putting on record a fresh sanction to prosecute Gandhy under section 45 of the Unlawful Activities Prevention Act.  
The charge sheet also had with annexed to it a March 23, 2012 order of the additional secretary (home) against Gandhy and his co-accused Arvind Joshi.
"It (supplementary charge sheet) is nothing but a backdoor entry by the prosecution," Gandhy's counsel had contended.  
"At the time of institution of the first charge sheet, there was a sanction. That sanction was incorrectly obtained.  Now, this supplementary charge sheet has been filed to cure a defect. It is not a charge sheet but a curative petition," the counsel said.
The prosecution had denied any illegality in the first sanction and maintained that a fresh sanction was obtained in the light of the amendment to the UAP Act.  
In the main charge sheet, the police had slapped charges under the UAP Act, besides booking him for various offences under the IPC relating to cheating, forgery and impersonation.  
An alumni of the prestigious Doon School, Ghandy was said to be part of the top leadership of erstwhile CPI-ML (People's War Group) from 1981 and continued as a Central Committee member in CPI (Maoist). He was elected to its Politburo in 2007.
The investigators had claimed to have recovered a fake voter identity and pan cards from Ghandy and had referred to a CD in which he was shown addressing the armed cadres of the banned organisation. He was arrested here on September 20 last year.
They had also pointed out that after his arrest, Jharkhand police inspector Francis Induwar was killed on October 6 last year and leaflets were distributed in Maharashtra calling for bandh in protest against his detention.