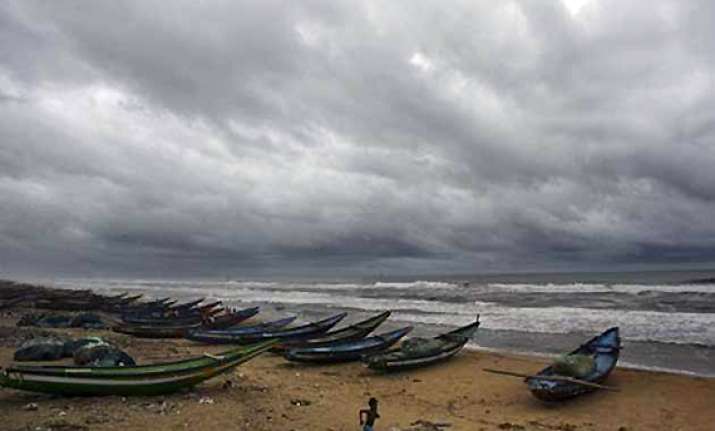 Hyderabad, Dec 28: The cyclonic storm 'Thane' over south-west and south-east Bay of Bengal is likely to move west-north-westwards and intensify into a severe cyclonic storm tomorrow.

The storm is likely to cross north Tamil Nadu and South Andhra Pradesh coasts between Cuddalore and Nellore around the morning of December 30, an official release said quoting a bulletin issued by the India Meteorological Department (IMD).

'Thane' remained practically stationary and lay centered at 0530 hrs today about 600 kms east-southeast of Chennai, it said.

According to the release, there would be rainfall at most places with isolated heavy rains likely to commence over north Tamil Nadu and Puducherry and south coastal Andhra Pradesh from tomorrow onwards.

Squally winds at a speed of 45-55 kmpm are likely to commence along and off north Tamil Nadu, Puducherry and south Andhra Pradesh coasts from tomorrow morning onwards, it said.

Fishermen along north Tamil Nadu, Puducherry and south Andhra Pradesh coasts are advised not to venture into the sea.  Those who are out at sea are urged to return to the coast, the release said.

Extensive damage to thatched roofs and huts and minor damage to power and communication lines due to uprooting of large trees is expected, it said.

Collectors of coastal district, besides in Rayaalaseema region have been alerted to take necessary steps to prevent loss to life, cattle and property, the release said.