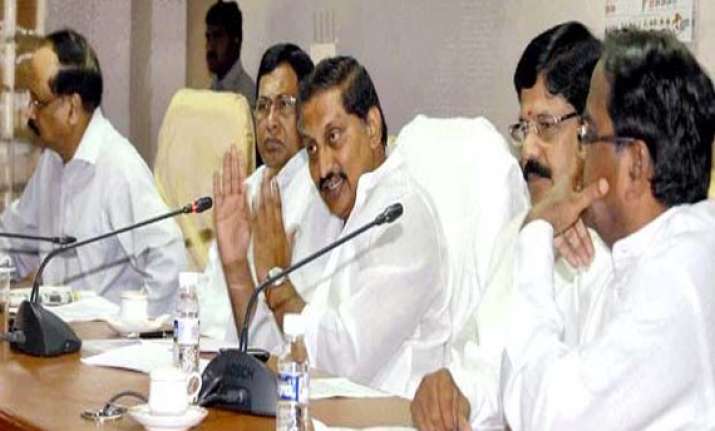 Hyderabad: With cyclonic storm Phailin crossing the Andhra Pradesh coast without doing much damage, Chief Minister N Kiran Kumar Reddy yesterday said a state-level disaster response force would soon be set up.
A 60-year-old man lost his life today in a cyclone-related incident in Srikakulam district while a youth died at a relief camp as cyclonic storm Phailin lashed the east coast, disaster management sources said.
The man died when a wall collapsed on him during the cyclone at Bulivadu village of the district.
At a relief camp at Kaviti, a 27-year-old fisherman died in his sleep in the early hours yesterday, an official said.
The Chief Minister told a high-level review meeting that a State Disaster Response Force (SDRF), on the lines of NDRF, would be set up immediately to tackle natural disasters.
He said the SDRF would be raised initially with a strength of 1,000 personnel, who would be trained in rescue and relief operations, an official release said.
The Director General of Police and the Director General of State Disaster Response, Fire and Emergency Services will work out modalities for formation of SDRF. The NDRF at Mangalagiri would train the SDRF personnel.
Meanwhile, the Chief Minister directed officials to take up relief and restoration works on a war-footing in the cyclone-affected districts, mainly Srikakulam.
He wanted them to distribute 10 kg rice to each of the 42,279 fishermen families in north coastal districts.
The Chief Minister thanked the people who cooperated with the administration in rescue operation, his cabinet colleagues, elected representatives, officials, departmental heads, NDRF team, Army, Navy, district collectors, media and others who stood with him in facing 'Phailin', which was thought to be a very severe cyclone.
"It is all team work and I thank everyone," the release quoted the Chief Minister as saying.
Meanwhile, 1,34,426 people are still in 125 relief camps opened by the district administrations of Srikakulam, Vizianagaram and Visakhapatnam districts.
As per preliminary estimates, 7,115 hectares under paddy cultivation was inundated.
Maize in 100 hectares, sugarcane in 100 hectares, coconut in 3,219 hectares, cashew in 929 hectares, vegetables in 663 hectares, banana in 283 hectares and papaya in 46 hectares were also damaged, the release added.
Full enumeration of crop damage is being done, state Disaster Management Commissioner T Radha said.