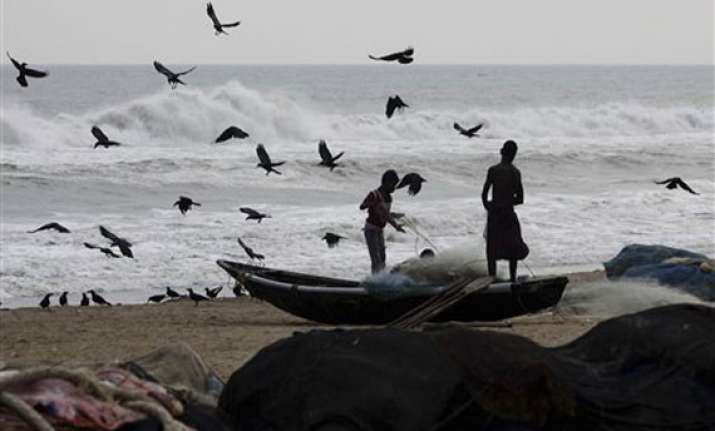 Bhubaneswar/Hyderabad: Roaring winds and heavy rains lashed coastal Odisha and Andhra Pradesh as cyclonic storm Phailin kept advancing from the Bay of Bengal to hit their coast by Saturday evening.
Issuing a warning for Odisha and north Andhra coasts, the Indian Meteorological Department (IMD) said Phailin lay about 260 km southeast of Gopalpur and 310 km south-southeast of Paradip, both places in Odisha.
"It would move northwestwards and cross north Andhra Pradesh and Odisha coasts between Kalingapatnam and Paradip, close to Gopalpur by evening as a very severe cyclonic storm with a maximum sustained wind speed of 210-220 kmph gusting to 240 kmph," it said.
IMD officials said the "very severe" cyclonic storm would make the landfall between 6 and 8 p.m. It was likely to retain its intensity six hours after the landfall.
Parts of Odisha and Andhra coasts received eight to 10 cm rainfall accompanied by high winds since Friday night.
The IMD has forecast heavy to very heavy rains in coastal Odisha, north coastal Andhra and isolated heavy rains in West Bengal during the next 48 hours.
Gale winds with speeds reaching 70-80 kmph would hit the Odisha-Andhra coast.
It would intensify to 100-150 kmph from noon and 210-220 kmph, gusting to 235 kmph along and off the coastal districts of north coastal Andhra Pradesh and south Odisha at the time of landfall.
It has also warned that storms surging to a height of 3 to 3.5 metre above astronomical tide would inundate low lying areas of Ganjam, Khurda, Puri and Jagatsinghpur districts of Odisha and Srikakulam in Andhra Pradesh.
About three lakh people in Odisha and 64,000 in north coastal Andhra were evacuated while the army, navy and air force as well as the National Disaster Response Force (NDRF) were on alert for rescue and relief work.