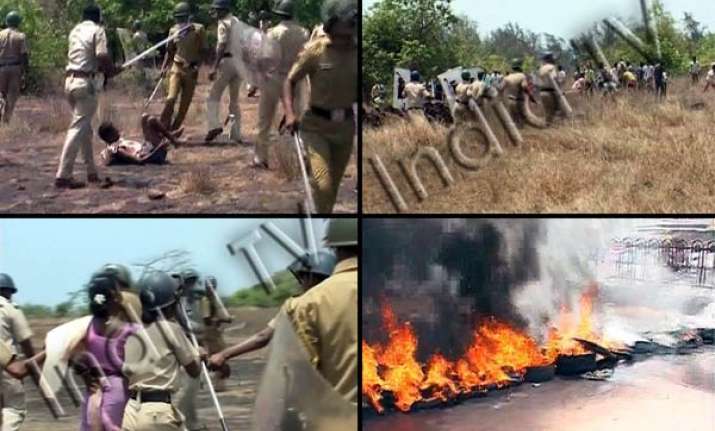 Ratnagiri, Apr 20: Police caned protesters and imposed an indefinite curfew in Ratnagiri town in the Konkan region of Maharashtra as tension mounted Tuesday, a day after a local fisherman who was part of a mob rioting against the nuclear power project in Jaitapur, was shot dead by police.

Tabrez Tehekar of Nate village was killed in the firing Monday afternoon. Police have said they had no option but to fire at the mob, which was trying to burn down the Nate police station, and could have looted weapons and ammunition.

Fresh trouble started in Ratnagiri, the district headquarters about 450 km south of Mumbai, this morning. The Shiv Sena, which has been opposing the project, had called for a district bandh to protest Tehekar's killing, and villagers from the project area villages of Madban, Nate and Jaitapur had gathered near the district civil hospital in Ratnagiri where the autopsy was to be conducted.

The protesters were demanding that the government immediately announce the cancellation of the project, and that the autopsy be conducted in the presence of human rights activists. They also wanted Deputy District Collector Ajit Pawar to be suspended, saying he had ordered Monday's firing.

With the district administration refusing to budge, the crowd starting pelting the hospital building, located in the heart of the town, close to the Mumbai-Goa highway, with stones. They used burning tyres to block roads at several places, forcing the police to cane them.

The mob assaulted a ward boy and manhandled a doctor at the hospital, following which hospital authorities refused to conduct the autopsy. District authorities then clamped an indefinite curfew in the town.