Follow us on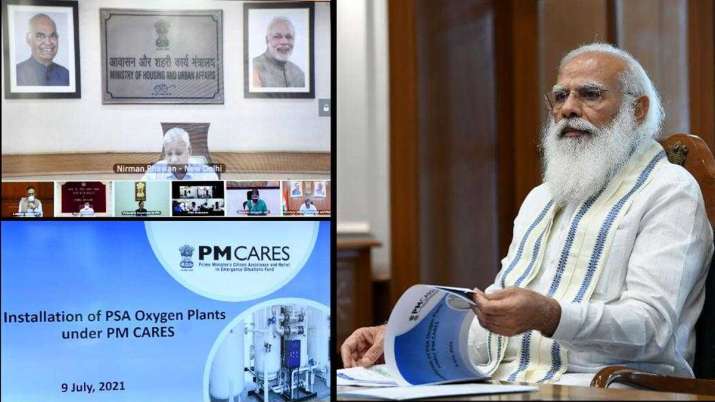 Prime Minister Narendra Modi on Friday chaired a high-level meeting to review the augmentation and availability of medical oxygen across the country amid fears of third wave of Covid-19. The Prime Minister asked officials to set up 1,500 PSA (Pressure Swing Adsorption) oxygen plants across the country to mitigate the shortage of medical oxygen supply. These PSA Oxygen plants will support more than 4 lakh oxygenated beds.
Today's meeting was attended by Principal Secretary to PM, Cabinet Secretary, Secretary Health, Secretary MoHUA (Ministry of Housing and Urban Affairs) and other top officials.
Amid fear that the third wave of pandemic will hit hard, the Prime Minister said that these plants should be made functional as soon as possible. Besides, he directed that adequate training should be imparted to hospital staff on the operation and maintenance of plants.
According to the Prime Minister's Office (PMO), these upcoming oxygen plants include those being built with the contribution from the PM CARES fund as well as from various ministries and PSUs.
"PM asked officials to ensure there is adequate training of hospital staff on operation and maintenance of oxygen plants. He also directed officials to ensure that each district has trained personnel available," the PMO said.
PM Modi also asked them to deploy advanced technology like IoT to track the performance and functioning of these oxygen plants at the local and national level. Officials said that a pilot exercise is being done using IoT for monitoring the performance of the oxygen plants, the PMO said.
Officials told the Prime Minister that they are in regular touch with officers from state governments regarding fast-tracking the oxygen plants, the PMO added.
During the peak of the second COVID-19 wave in April-May, several states including the Aam Aadmi Party (AAP) government in Delhi had alleged that hospitals are facing medical oxygen shortage.
Earlier on Thursday, PM Modi had expressed his concern over people flouting the Covid protocols. The Prime Minister instructed his ministers to actively participate in Covid management. The Health Ministry had earlier said it was "frightening" to see pictures of tourists thronging hill stations amid the pandemic and asked people to comply with Covid-appropriate behavior.
Meanwhile, the government has announced a Rs 23,123-crore package for improving health infrastructure to fight COVID-19. The funds will be used to make necessary arrangements like pediatric care units to ICU beds, oxygen storage, ambulances, and medicines in all the districts of the country.
READ MORE: PM's new team gets cracking: Plan to tackle expected Covid 3rd wave, mega fund for farmers
READ MORE: Rs 5,000 fine or 8-day jail: Manali issues strict Covid rules for tourists flouting norms