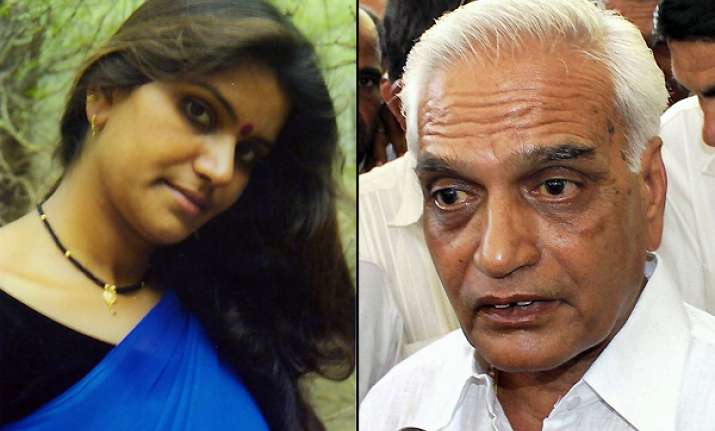 Jodhpur, Dec 2: The conspiracy to abduct Bhanwari Devi, who is suspected to have been strangulated to death, was hatched by Sahiram Bishnoi at the behest of sacked Rajathan minister Mahipal Maderna, the CBI chargesheet said. 

Maderna, who was arrested by the CBI this evening, was close to Bhanwari Devi and was introduced to her by MLA Malkhan Singh Bishnoi in 2005.

But after the issue of a sleaze CD purportedly involving Madrena and the nurse appeared in media in July, Maderna roped in Sahiram to settle the matter, the agency claimed.


Sahiram held a meeting with Sohan Lal and Shahabuddin and planned to obtain the CD from her for Rs 50 Lakh. In this entire plan, Shahabuddin was introduced to Bhanwari as Raju Bhai, a rich friend of Maderna who lives in Mumbai.

She was told that he will make payment for the CD as Bhanwari did not trust Sohan and Sahiram, the CBI said in its 42-page chargesheet filed in ACJM (CBI) court here today.  

An amount of Rs 2.5 lakh was paid to her in August and the remaining amount was decided to be paid in first week of September.

She was called to Bilara by Sohan Lal on September 1 to collect the money along with the payment of her car which she had sold through him.

From here, they travelled around Bilara with her in a car but it was resisted by Bhanwari. The charge sheet mentions that it appears that following this resistance, Sohan and Shahabuddin strangulated her in the car itself with help of Balia.
All this while they were following the directions of Sahiram, who asked them to proceed towards Nevra Road, where they handed her over to an unidentified person in another car.  

The agency said only Sahiram, who has a reward of Rs five lakh on his arrest, knew the identity of the person.  

In the investigation, it has been found that Sahiram had obtained a SIM using the documents of his relative Hetram.  Sahiram had spoken to Maderna 21 times between July 23 and 26 July after the news about the CD broke out.  

In the same period, he spoke to Soahn Lal 31 times.  Sahiram had also contacted Bhanwari Devi on July 23 immediately after the news about the CD was aired in a news channel and talked to her 14 times in the same period.

This contact continued and on September 1, the day Bhanwari went missing, Sahiram was constantly in touch with both Soahnlal and Shahabuddin right from the morning till late night, the CBI said.